Deserted schools turned into cattle fields and open markets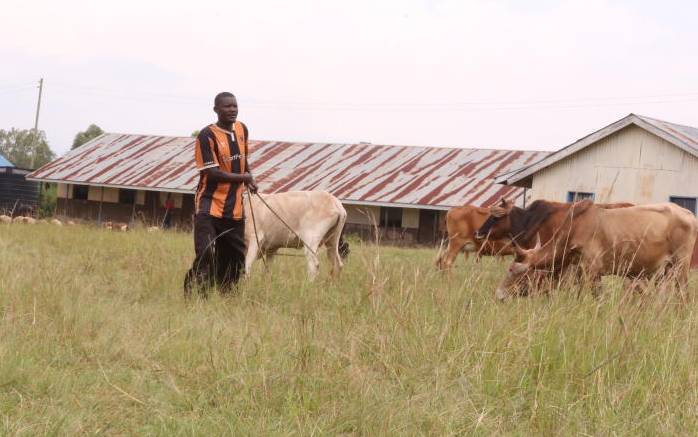 Vandalised offices, food rotting inside locked up stores, rusty roofs and overgrown bushes laying a siege on classrooms already covered by inches-deep dust, debris and anthills.
This is the sorry state of public schools across the country three months after they were closed to stem the spread Covid -19.
Some school compounds have since been turned into open-air markets. Others have been turned into open grazing grounds for villagers' livestock.
With salaries of most of the guards who watch over schools' property stopped, primary and secondary school headteachers who spoke to The Standard described the security situation in the closed institutions as dire.
A spot check across the country found schools that have turned into ghost institutions.
In Western and Nyanza, many school compounds have been converted into grazing fields and cow pens. In some cases, the deserted classrooms have become cowsheds.
Take a quick survey and help us improve our website!
Take a survey
Amin Primary School in Seme, Kisumu County, has been turned into a livestock market.
Part of the school field has been turned into a vaccination ground for cattle and a number of classrooms converted into food kiosks for waiting farmers and traders.
The cattle market in the school compound runs twice a week. The rest of the days it acts as a grazing ground.
Cases of vandalism have also been reported in some schools in the region such as Dago primary where all classroom windows were broken.
The school's neighbours now fear that the open classrooms might soon become criminal dens.
At Got Agulu and Korwenje primary schools and many others in western region, fences have been pulled down to let in livestock to graze.
At Anyanga Primary, termites are eating into doors and desks.
Mumias Muslim and Mumias Complex primary school compounds in Kakamega County have also been converted into grazing fields.
At Ebubole Primary in Mumias East, headteacher Josephat Kweyu said with no money to trim the rapidly growing grass, nearby villagers are allowed to graze their cows at the school.
At Butere Primary School, dust from the nearby dirt road has been steadily gathering inside empty classrooms.
At Nakuru's Moi Primary where at least 36 employees have since been laid off, some panes are missing leaving gaping windows.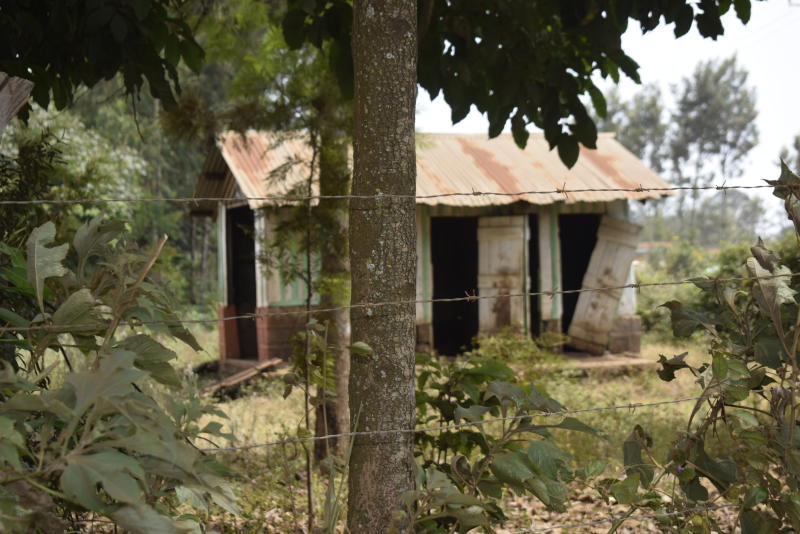 Kenya Primary School Heads Association national chairman Nicholas Gathemia yesterday termed the state of schools as unfortunate.
"It is unfortunate that most schools have no one watching over them at all. If criminal minds target these institutions there will be huge losses," said Gathemia.
Kenya Secondary School Heads Association national chairman Kahi Indimuli said schools are not able to maintain critical staff due to lack of funds.
"Some schools only managed to keep guards and cleaners for about two months," said Indimuli.
Education Cabinet Secretary George Magoha yesterday said his office is negotiating the release of part of government's funding for schools.
But Prof Magoha noted that some schools have no excuse for not paying their security guards and cleaners.
"It is true that there is tall grass and some cases here and there, but we also have schools where parents had paid full year fees. Our major worry now is the containment of coronavirus, other matters shall be addressed in due course," said Magoha.
Thieves are now taking advantage of security gaps in deserted schools.
At Ogango Primary School in Manga Sub-county and Ikobe in Nyamira South, thieves broke into the main office and looted assorted books and digital materials.
Similar cases were reported at Emauko and Shibanga primary schools in Butere, Kakamega County, where thieves made away with digital learning gadgets and stationery.
At Busagwa primary, in Port Victoria in Budalang'i, eight digital learning equipment and some electrical equipment was stolen. In the same region, Bukhakhala primary lost laptops, an iPad and extension cables.
Headteachers who spoke to The Standard spoke of foodstuff rotting in stores. A number of them said they had either given away the foodstuff or sold it to avoid further losses.
In central Kenya, a number of headteachers said expired foodstuff was fed to livestock in the schools.
At Highway Secondary in Nairobi, the principal, Irungu Nduati, said the school donated food to children centres.
At Ndurumo High School in Laikipia County, the principal, Wilson Kamunya, said the school shared the food with impoverished neighbours.
Gititu Boys and Koimbi Boys high schools in Murang'a County shared some of the food with their workers after it turned out they could miss their salaries.
In Western, Koyonzo High School Principal Boaz Adit said the school sold most of the foodstuff in the store to avoid losses.
[Reporting by Augustine Oduor, Mactilda Mbenywe, James Omoro, Isaiah Gwengi, Stanley Ongwae, Caleb Kingwara, Brian Kisanji, Mercy Kahenda and Boniface Gikandi]
MPs train sights on Magoha
Education Cabinet Secretary George Magoha has outlined measures that must be in place before learning resumes in basic education schools.