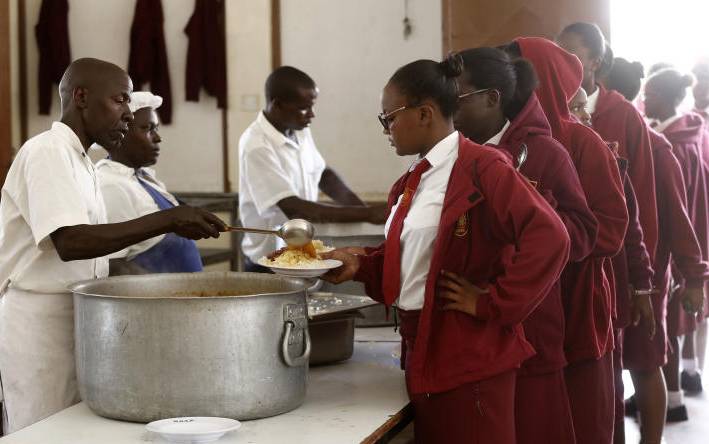 Huge supplies of food acquired for learners in boarding schools risk going to waste should the institutions fail to find a way to dispose of them in the coming weeks. With the reopening of schools pushed to January 2021, several principals of boarding schools are scratching their heads on what to do with stocks. All schools were shut down after the country recorded its first case of Covid-19 on March 13. Interviews with several principals established that stores in their institutions had huge bulk of food supplies that had not been used by the time schools were closed because of the pandemic.
SEE ALSO: High-end clubs lose bid to reopen doors
The situation is worse for institutions that enrolled more form one students and were compelled to increase their supplies. Yesterday, the principals told The Standard they are still pondering their next move with the several bags of maize, beans and rice in their stores. Way forward At the Maseno School which has a student population of about 2,200, the administration is hoping the ministry will give them a green light to sell their piles to recover the money they paid to suppliers. Andrew Buop, the principal of the institution, said the new development has posed a huge challenge for institutions on how to handle the food they had bought.
SEE ALSO: Pandemic: Why some people don't play by the rules
"We may have to sell the food that we have in our stores because it will not last until January next year," said Buop. He said he will seek the blessings of the board as well as the Ministry of Education to authorise the sale. "We are faced with a huge challenge because we cannot let the food just rot away," Buop said. Kisumu Boys, Kisumu Day, Sinyolo Girls and Nyakach Girls, which also have a student population of more than 1,000, are also yet to find a solution on what to do with their stockpiles. Peter Obwogo, the principal of Kisumu Boys, said they will engage the board of directors to decide a way forward.
SEE ALSO: Coast hotels resume operation, use 'digital order' to beat Covid-19
"Schools are not storage facilities and that is why it may not be possible to keep the foods until January. The option we have is to dispose of them so that they do not go to waste," said Obwogo. Some schools in the region are however planning to give support staff who have been on unpaid leave the stockpiles to help them cope with the tough economic times. They claimed their support staff have been struggling to make ends meet. "We have not been paying our support staff because there is no money. We hope the board will give us an okay to share with them the foodstuff," said Daniel Mwaturo, the principal of Kisumu Day. The schools are also grappling with the challenge of offsetting the debts they owe to suppliers. Yesterday, a number of suppliers told The Standard that they are yet to be paid and fear they are likely to count heavy losses. A supplier at Ahero Girl's Secondary School claimed she had been relying entirely on supplies to earn a living. "I have tried to contact the school several times to pay me but they are saying there is no money yet. It is really unfortunate," said the supplier. The principals, however, said the issue of suppliers should not be a serious concern, arguing that their dues will be settled next year in January. "The pandemic struck when students had a lot of fee arrears and that is why some of the suppliers may have to wait," said another principal. St Maria Veronica Girls Secondary Principal Grace Maina said the school had bought supplies to last them the whole of second term and also cover a month of the third term. The principal revealed that they had 100 bags of maize, 50 bags of rice and 28 bags of beans in store by the time the government ordered closure of schools in March. The school has asked suppliers to take back maize flour and milk that had already been supplied to ease the burden of huge bills the school would have incurred. "We requested millers to take back maize flour and milk they had supplied to us, what remained including the rice is in our store," she said. Anderson Naukot, the principal Kapedo Secondary School, said they only had four bags of beans and 10 bags of maize in store by the time of closure. Naukot said they requested the supplier to take back what had remained in their store to avoid loses. The principal said the school owes suppliers over Sh1 million. A source at Kabarnet Boys High school in Baringo County who sought anonymity said more than 400 bags of maize and another 100 bags of beans were ferried for storage at a nearby cereals store. "I cannot tell how much the school owes suppliers unless I go to the records. We, however, cannot assure them of pay due to lack of funds," said the source. Feeding programme At Kapindasum primary school in Marigat, Head Teacher Maria Mursoi said she is not sure of the condition of the four bags of maize and two bags of rice supplied to them under the school feeding programme. Mursoi fears the food might have been destroyed by rodents. She has not been able to reach the school, she claims, due to continued floods. Most schools purchase their supplies in advance and in bulk, meaning most of them have been left with perishable goods which may not last until January 2021 when the academic calendar is expected to resume. In Central Kenya, the majority of schools have incurred huge losses after perishable goods stocked in stores went to waste following the abrupt closure of the institutions. Other schools have struck a deal with their contracted suppliers who took back their supplies to the shops to save institutions from huge losses. At Gititu Boys High School Gatanga in Murang'a County, Principal Francis Mutemwa said he was forced to share some of the food from the school with the workers after it turned out they could miss their salaries. "Supplies worth millions that included sugar, maize flour, rice and other products were returned to the suppliers," he said. At Highway Secondary School in Nairobi, Principal Irungu Nduati said they incurred loss of millions of shillings as goods that had been paid for were not returned. The management of the school has been in a fix since the students were ordered to go home as perishable goods went to waste. "Food that was in the store and could not be taken back to the suppliers was donated to children centres," said Irungu. At Ndurumo High School in Laikipia County, Principal Wilson Kamunya said they have been thrown off balance. [Harold Odhiambo, Julius Chepkwony and Boniface Gikandi]