Magoha spares varsities, colleges of year-long closure over Covid-19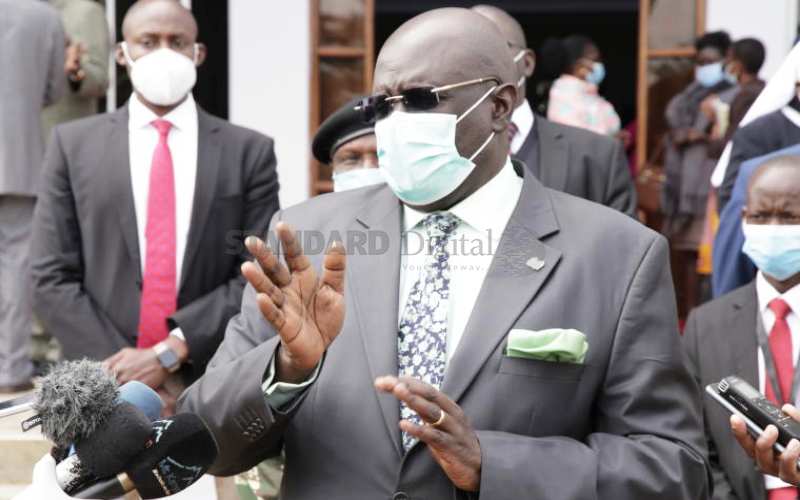 Universities, teacher training colleges and technical institutions will be allowed to re-open from September 2020 subject to strict adherence to Covid-19 protocols.
Suspending classes for basic education until January next year, Education Cabinet Secretary George Magoha (pictured) spared universities and tertiary institutions on the advise of Covid-19 response emergency committee.
"Re-opening of universities for face-to-face sessions will be on a case-by-case basis based on approved compliance with the Ministry of Health Covid-19 protocols. Universities should consider phased re-opening to achieve physical and social-distancing, especially in halls of residence, lecture rooms and dining halls," Magoha said.
He directed universities to continue holding virtual learning and graduations.
"All institutions allowed to re-open must comply with Covid-19 regulations or risk closure. All the decisions that we have made here with stakeholders regarding reopening of learning institutions may change as informed by reports from the Ministry of Health, prevailing circumstances and increased knowledge of the Covid-19," he said.
He directed that universities currently being used as quarantine centres be fumigated to make them safe before re-opening.
"My worry is the University of Nairobi and Kenyatta University which have medical schools being used by the very sick. Should we go ahead with re-opening, then government can move the medical students to other facilities," he said.
Universities Academic Staff Union (UASU) Secretary General Constantine Wasonga called on universities to put in measures to manage the virus before re-opening.
"We have agreed that universities re-open only after meeting the laid-down requirements. We support phased re-opening because we know it is a major challenge for some of them to allow all the students back," Wasonga said.