Schools may not resume in September as was hoped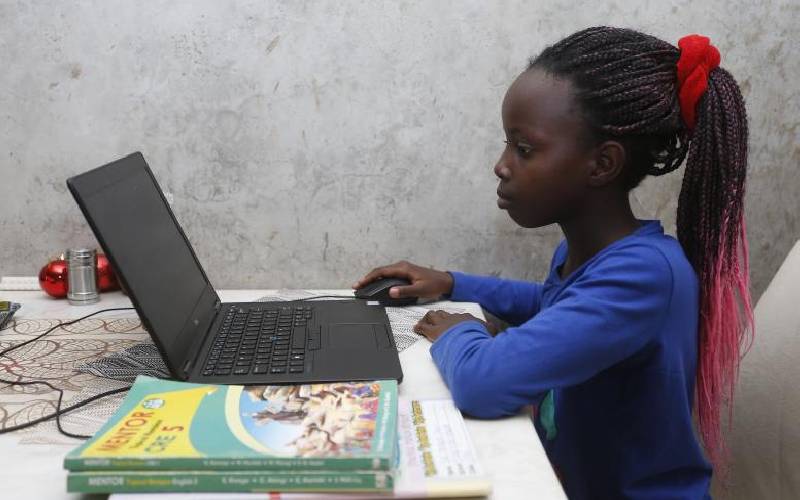 The possibility of re-opening schools in September appeared slim yesterday even as the government gave an assurance that it was putting measures in place to ensure this was done as soon as possible.
Education Cabinet Secretary George Mahoha ruled out reopening of schools when the coronavirus disease (Covid-19) was still not under control.
"I am today presenting three samples of child-friendly masks to be worn by school children in case we open in September. The Cabinet will advise me on the prices and the quantity to buy. But the virus is behaving strangely," Magoha said at the Kenya Technical Trainers College (KTTC) in Nairobi. "It is new and continues to spike, we can't open. We can only do so when the disease stabilises for 14 days."
He added that he is not ready to lose the life of even one learner. The Cabinet is expected to have a sitting today and will advise President Uhuru Kenyatta on whether to re-open schools in September or not.
In May, public health officials had projected that the peak for Covid-19 in Kenya would be in August or September. Should this happen, then it is likely that learners may have to stay home for a little longer.
During the daily Ministry of Health briefings at the time, Director General of Health Dr Patrick Amoth had said with increased testing capacity, Covid-19 cases were likely to increase in coming months. Since then, as high as 200 cases or more have been recorded on some days as testing is ramped up.
Greatest challange
Yesterday, Magoha said the greatest challenge facing the school re-opening plan is how to implement social distancing.
"This is the elephant in the room and we are looking at ways on how to counter it. We have agreed that to help sort out this matter, each learner must wear a mask," he said when he met with Technical and Vocational Education and Training (TVET) principals from Nairobi, Central and Eastern regions to plan on how to reopen the colleges in September.
He also said the government has mapped out water requirements for primary and secondary schools.
He added that the government will decide whether only candidates for Kenya Certificate of Primary Education (KCPE) and Kenya Certificate of Secondary Education (KCSE) will go back to schools or all the 15 million learners.
He revealed that should schools re-open in September, all high schools and universities currently being used as quarantine centres will be fumigated and sanitised to make them safe for students.
"My worry is the University of Nairobi and Kenyatta University which have medical schools being used by the very sick.
"But should we go ahead with re-opening, then government can move the medical students to other facilities," Magoha said.
World Bank
He said the World Bank has given the government Sh8.2 billion for infrastructure in primary and secondary schools.
"The tenders for this work will be re-opened this week and we will fast-track it.
"Some of the money will go to building classrooms, toilets and laboratories to improve the infrastructure in readiness for observing some of the Ministry of Health guidelines on Covid-19," Magoha said. The money will benefit schools in 30 counties in marginalised regions.
The CS said final examinations for TVET have been re-scheduled due to the coronavirus pandemic.
Also to sit their examinations on new dates are Kenya Accountants and Secretaries National Examinations Board (KASNEB) candidates.
Magoha said students who were to sit KNEC exams next month will now write them in December after covering the syllabus for the normal 12 weeks. "KASNEB May 2020 series will be re-scheduled to December 2020."
He said TVET institutions offering international curricula will re-open according to institutional calendar of the curriculum they are implementing.
However, prior to re-opening, they will be required to obtain approval from Principal Secretary for TVET Dr Julius Jwan.
"When TVET institutions re-open, trainees will begin their Term 3 of the training calendar on September 1, 2020 since they had already covered the curriculum of Term 2 at the time of closure on March 15, 2020," Magoha said.
He added that based on the guiding principles, re-opening of TVET institutions will be informed by modelling projections by the Ministry of Health on when the peak of infections is anticipated.
In order to meet the minimum requirements for re-opening TVET institutions, he said the colleges will require two months from tomorrow to institute safe training environment that meets all the protocols that prevent transmission of Covid-19.
"Trainers will be re-tooled and trained on new approaches in pedagogy and management of trainees amidst Covid-19 pandemic."
Minimum requirements
Learning institutions will be required to provide minimum requirements for prevention of Covid-19 transmissions which include clean running water and soap for handwashing, sanitisers, adequate space for social distancing and masks for learners, trainers and non-teaching staff.
The CS said the government will facilitate TVET institutions to produce masks which will be purchased by trainees and staff at subsidised rates.
The institutions must also have thermal guns for monitoring body temperature.
Magoha said the government has categorised TVET institutions for ease of approval of re-opening institutional plan.
"A total of 143 technical and training colleges (TVCs) are new and are being operationalised hence are not yet congested. This category will admit new trainees in September this year," he said.
The 23 institutions that have moderate enrollment of below 3,000 trainees that require moderate measures will also admit new trainees in September this year.
"The 22 highly enrolled TVCs and National Polytechnics that have an enrollment of above 3,000 and thus require detailed measures will require government approval of the institutional academic plan and assessment of the same," he said.
[The writer is a 2019/2020 Bertha Fellow]