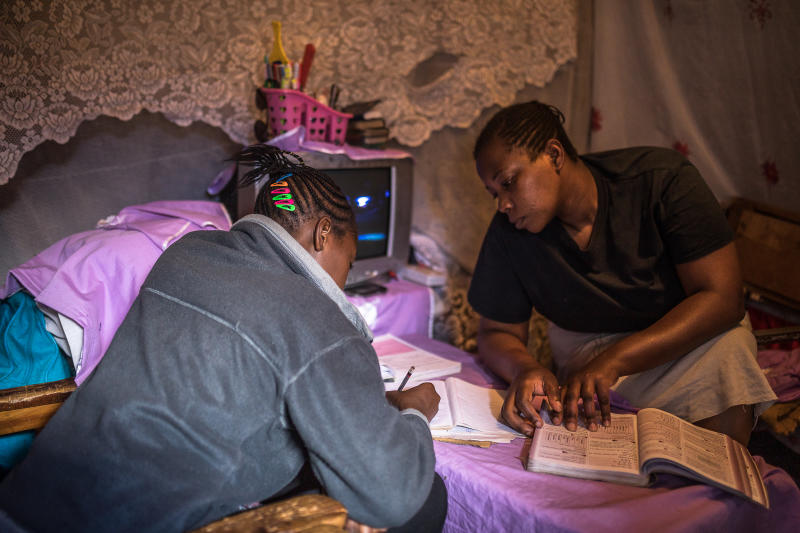 Sheila Achieng' is a Kenya Certificate of Primary Education (KCPE) candidate at Olympic Primary School. It maybe several months to the examination, but she is worried. Like thousands of other learners across the nation, she has lost valuable time caused by the abrupt disruption of the coronavirus pandemic.
But her case is more worrying. While many other counterparts could be reaping from online lessons, this is a luxury her family, and indeed her neighbourhood in Kibera, cannot afford. Worse, it is painstaking to do personal studies in a house sitting in the middle of the messy and noisy slum.
"It's hard to concentrate on my studies because neighbours play loud music. This is my last year of primary school and I am worried that without being able to go to school, I might fail my exams or be forced to repeat the same class," she says.
No answers
She lives in a single-roomed house in Kibera with her mother, father and one of her brothers. Her mother Florian Shegu who at times, helps her with her homework, says many parents find it hard to deal with their school-going children.
Read More
"Her teachers call her to go for exam papers at school. The learners can't ask their teachers questions or clarify some of the work. Parents are supposed to help out but at times we don't have answers to all questions. We also have other chores to perform," Shegu says.
Before the coronavirus hit, going to school gave many children in the country a safe and supportive learning environment, with access to free school meals and other services.
Today, as classrooms remain closed, children continuing their education from their Kibera homes are grappling with problems such as intermittent power supply and limited space to play or exercise. Home to up to 200,000 people, according to the 2019 population and housing report, unemployment, poverty and crime levels are high in Kibra, with many residents living on less than Sh100 a day.
A lack of basic services, including running water, health care, poor sanitation and the close proximity of makeshift homes make it an especially challenging place for children to live.
The Ministry of Education says 18 million students in Kenya have been affected by closure of schools. Experts say an extended period of closure will impact children's wellbeing and have a long-term impact on inequality, as the most vulnerable families may not send children back to school.
"Unicef is focusing on providing the most vulnerable children with access to learning, including those in informal settlements, refugees, and children with disabilities," Unicef Kenya Chief of Education Marilyn Hoar says.
To support children across Kenya in continuing their education, UNICEF has been working with the government to provide radio, TV and Internet lessons. Despite the challenges in Kibera, many children are using these resources to continue learning.
Lack access
The Kenya Institute of Curriculum Development (KICD) estimates that 47 per cent of learners are accessing lessons through radio, TV or the Internet. This means that over half of Kenya students are not able to access remote lessons, either because they are outside of broadcast range or do not have the necessary equipment.
To address this, Unicef is mapping areas without radio and exploring ways to reach children, including by distributing 27,500 solar powered radios for learners without access to lessons.
"We are also distributing textbooks to 18,350 students in refugee camps and have provided tutorials on physical fitness through smartphones to children in informal settlements," Hoar says.
Sandra who is also in her final year of primary school says she is worried because she does not know when she will go back to school.
[Protus Onyango is a 2019/2020 Bertha Fellow]