Magoha picks team to plan for schools opening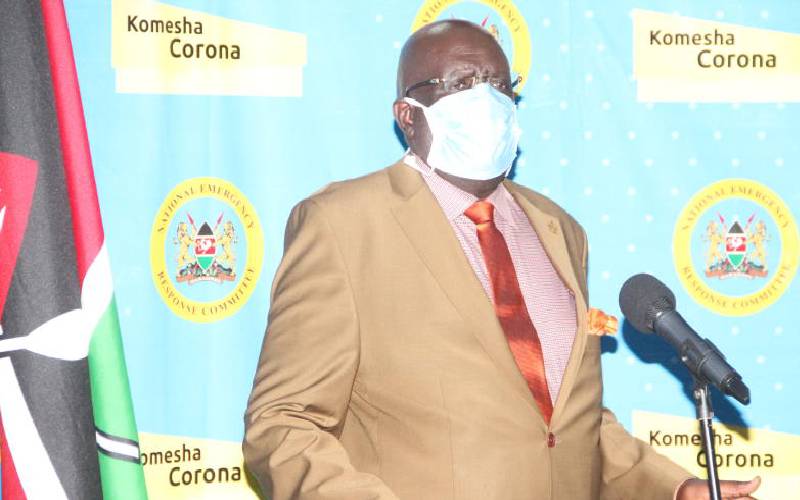 Education Cabinet Secretary George Magoha (pictured) picked a nine-member technical team to oversee return of normal learning.
This emerged yesterday as the ministry began an audit on school vehicles nationwide in an effort to look for means of transporting students back to school.
Kenya Institute for Curriculum Development (KICD) Chairperson Sarah Ruto will lead the Covid-19 Education Response Committee that will give critical advise on the reopening of all basic learning institutions, teacher training colleges and adult education institutions.
Representatives of secondary and primary school heads, private schools, international schools, Kenya Institute for Special Education, Kenya Special Schools Heads Association and parents' associations are listed as members to the committee.
The Kenya Conference of Catholic Bishops, National Council of Churches of Kenya (NCCK) and Muslim Education Council are also members.
Senior officers at the Teachers Service Commission (TSC), Ministry of Health, Kenya National Examination Council (Knec) and Ministry of Education are listed as ex-officio members. Magoha inaugurated the team yesterday at the KICD and directed that they review and reorganise the school calendar as part of the Covid-19 post-recovery strategy.
Schools were expected to reopen when the second term was scheduled to start on May 4, but Magoha extended the reopening date for one month.
The move was to give more room to scale up national efforts to fight the spread of Covid-19.
Part of the responsibility of the team will be to advise on the health and safety measures to be put in place for the pupils/students, teachers and entire school community
They will also identify institutions that may have been adversely affected by Covid-19 and advise on mitigation and recovery measures.
The committee will also advise the Cabinet Secretary on the general impact of the Covid-19 pandemic on the demand for education by poor households and suggest mitigation measures.
Speaking yesterday, Magoha said the team will advise the Ministry on how to implement learning in boarding institutions when the schools re-open.
The details emerged as the Ministry also launched an audit of available transport in public and private schools as part of the strategy to plan for partial opening of schools.
Last month, President Uhuru Kenyatta restricted opening of schools for Kenya Certificate of Primary Education (KCPE) and Kenya Certificate of Secondary Education (KCSE) candidates.
The President ruled out suspension of this year's KCPE and KCSE examinations amid the ravaging effects of the Covid-19 pandemic that has disrupted the school calendar.
National examinations
"The Ministry of Education is preparing for post Covid-19. Major expectations from parents is how the candidates will sit their national examinations," Uhuru said.
Sources in government told The Standard that the biggest headache is how learners in boarding schools would be transported to their institutions in case of partial opening.
The officials said moving students from one county to another, especially from the affected counties, would be a challenge if public service vehicles were to be relied upon as the sole means of transport.
The Ministry of Education has now directed all county directors of education to compile vehicles available in all schools within their area.
"The ministry is in the process of mapping out transport needs of school learners and would like to get above information from schools within your jurisdiction," reads a circular by Basic Education PS Belio Kipsang.
Secondary School Heads Association (Kessha) National Chairman Kahi Indimuli said teachers will support partial opening of schools provided safety is guaranteed for children. He said that the Government must also put on hold the planned use of schools as isolation centres.
The Government has designated some 460 schools and colleges across the country as isolation centres to mobilise at least 138,220 beds as coronavirus cases continue to increase.
In cases where some schools have been used as isolation centres, Indimuli said the Government must fumigate all the facilities before opening.
Indimuli also said that for schools that will open, the Government must provide face masks and sanitisers for learners, teachers and the support staff who will be on duty.
Quarantine rules
He said all schools must be given temperature guns, which will be used during every break to monitor students in schools.
And for boarding schools, Indimuli said quarantine rules must apply with teachers staying away from school compound being closely monitored.
Day schools will require running water and soap for hand washing and sanitisers.
Kenya National Union of Teachers (Knut) and the Kenya Union of Post Primary Education Teachers (Kuppet) have also asked Magoha to ensure safety of all learners before resumption of school.
However, even with these proposals, Indimuli said partial opening must be implemented before end of June.
Pressure has been mounting on Magoha to clarify on school calendar even as the ministry continues to roll out home learning for children through online, radio and television.