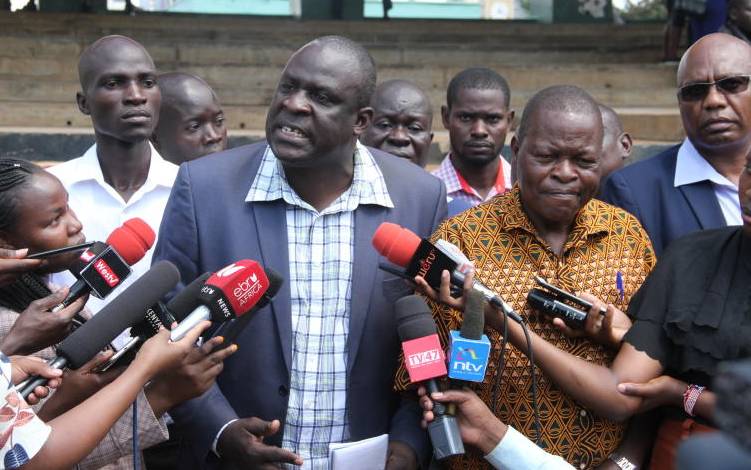 Some teachers deployed in schools in the north-eastern region camped at the Teachers Service Commission (TSC) headquarters on Wednesday to push for transfers, citing security concerns.
The Kenya Union of Post Primary Education Teachers (Kuppet) further asked the government to boost security for non-local teachers in the region following a series of terror attacks, most recently at Kamuthe in Garissa, which claimed the lives of three teachers.
But Education Cabinet Secretary George Magoha yesterday dismissed calls for the mass transfer of teachers from the region.
According to the CS, withdrawing teachers from the region will be an act of cowardice and surrender to terrorists.
Read More
Kuppet proposed that TSC rotate teachers from the region at least every two years.
"The regulation requiring newly employed teachers to work in their first stations for at least five years should be modified in respect to Garissa, Mandera, Wajir, Tana River, and Lamu counties to reduce the stress levels for teachers who serve in the areas," said Kuppet Secretary General Akello Misori.
The union said trained teachers who are currently enlisted in the disciplined forces, in particular, the police and Kenya Defence Forces, should be redeployed to schools in the region.
"Such teachers should maintain their ranks in the forces and be armed," Mr Misori said.
Kuppet further proposed that each institution of learning in terror-prone regions be guarded round the clock by two armed security officers.
"The teachers must not go back to their stations unless the security situation has been properly assessed."
The union's chairman Omboko Milemba said TSC should review staffing levels in schools in five counties and ensure that more local teachers are deployed in areas such as Wajir East and Wajir South.
Patrick Kipruto from Baringo County, who has been teaching at Bura Secondary School in Garissa for the last three years, said he and others have been having sleepless nights since they reported for the first term this year.
"The police sometimes get security alerts but instead of the government beefing up security, they relax and that is why these killings go on," he claimed, saying officers got intelligence that Kamuthe, Garissa town, and Bura were to be attacked a week earlier.
"They finally attacked Kamuthe and the loss of the three teachers is unfortunate."
[Anyango Otieno, Willis Oketch and Weldon Kipkemoi]