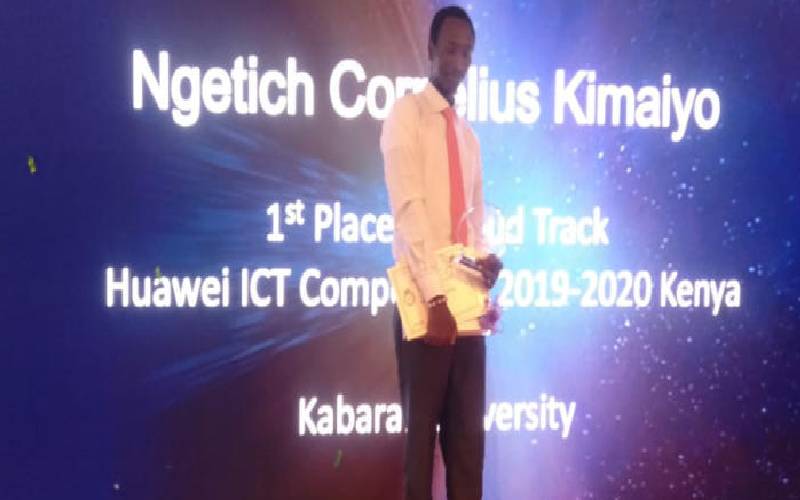 Two Kenyan students have been crowned winners of the Huawei ICT competition, beating thousands of students from more than 40 universities.
Cornelius Ngetich Kimaiyo, a second-year Computer Science student at Kabarak University, and Maluki Muthusi, a third-year University of Nairobi student, bagged the awards and will represent Kenya in regional competitions to be held in South Africa next year.
The students emerged winners in two different categories - networking and cloud computing.
Mr Kimaiyo said the win came as a surprise, considering they were competing against more than 6,000 students.
"It was tough and we were so many. After the preliminary exams, we were taken for a boot camp where we were taught many things like creating servers. In the end, we had to do another examination, which determined qualification to the next programme where we were subjected to national exams and practicals," Kimaiyo said.
Read More
He urged students to enter competitions and seek mentorship programmes to further their skills.
"This was my first-ever trial in any competition and as a second-year student, we were competing with thousands of others who are way ahead. This is a motivation to students that as long as one is focused and passionate about something, they will achieve it."
The competition, which is running for the second year in Kenya and fifth time globally, is aimed at equipping the youth with skills in emerging technologies.
Kabarak University Vice Chancellor Henry Kiplagat said participation in the competition was one of many opportunities the university had been giving students to "conceptualise their ideas beyond classroom teaching and learning".
"We are proud that despite being one of the fairly young universities, we have come out strongly on innovations and technology. Kimaiyo is one of the students who the university had spotted his potential and even awarded him after his win," Prof Kiplagat said.
He added that to nurture talent, students had been encouraged to come up with ideas to enhance innovation and convert them into tangible projects that could solve societal challenges.
"We can only solve the current challenges we are facing if we give space and support for these young minds to conceptualise the rich ideas they already have," Kiplagat said.