We expected this, top school says of results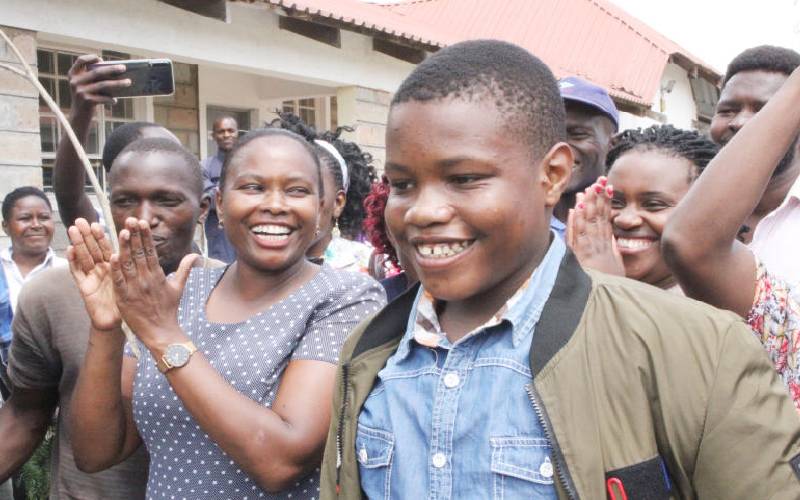 Makini Schools produced top candidates in the country, with 66 of the 204 candidates who sat this year's Kenya Certificate of Primary Education (KCPE) examinations at the institution scoring more than 400 marks.
Delcy Muhani Chelang'at, the top student at the school, scored 437 marks, while Noela Jerop came in second with 435 marks.
"It was hard work and encouragement from both teachers and my parents, and above all, God's favour," said Chelang'at, 14. She wants to become a doctor.
Makini School senior teacher John Mureithi thanked God for the school's performance, saying the good performance did not come as a surprise since they had prepared well.
"Our students worked hard and are disciplined. They interacted well with teachers and always sought assistance in academic matters," he said.
Ashley Mumo and Dyleen Yego are the stars of the Eastern region after scoring 430 marks, according to the results released yesterday.
Mumo sat KCPE at Kitengela International Schools, while Yego is from El Shadai Junior Academy, Utawala.
At least 26 candidates from Kitengela International Schools in Syokimau, Machakos County, scored 400 marks or above.
The school's headteacher Elizabeth Ngati said 25 candidates sat the examinations at the school. The school scored a mean grade of 383 marks.
Mumo was followed by Ian Muithi who scored 425. Immaculate Ndumi from Jonazaria Academy scored 422 marks.
Hope Muli from Machakos Primary School scored 420 marks. Muli, who wants to become a medical doctor, hopes to join Mary Hill Girls High School.
Seven candidates from Tender Care Academy in Komarock were among the best performers in Nairobi, with over 400 marks.
Isaac Kamau was the leading candidate with 425 marks, Joshua Wanene second with 424 marks and Rahma Chare third with 422. Others were Laura Okeyo with 417 marks, Cecil Owiti with 413 and Tracey Njeri, 417.
Naibei Dyleen Yego of El Shadai Junior Academy in Utawala emerged best at the school with 430 marks. The school had 22 candidates scoring above 400 marks, with a mean score of 363.62.
At Lakewood Primary School Anunda Bill Morondi emerged top candidate with 435 marks, while Tabby Njoki Kimani was the best female student with 420 marks. "It was not easy because during other exams I was never among top performers. I am happy with the results and I would like to join Alliance Girls High School," said Njoki.
Fifty-two candidates at Rockfields School in Donholm, out of 185 who sat the exams, scored over 400 marks, with 13-year-old Beth Teyana and 14-year-old Lynette Chelang'at tying at the top with 427 marks. Other top performers were Telvina Osewe (425), Isaac Kimeu (425), Latasha Wairimu (424) and Sally Adasa (420).
Simon Gituku Kirungu, a former street boy rescued by the City Inspectorate Department in 2017 and taken to Makadara Children's Home, beat all the odds to score 410 marks.
Kitengela International Schools' Doreen Onyango got 418 marks, while Eunice Moraa had 415 marks. At the same time, Maurice Onyancha and Gertrude Chepchumba got 412 and 409 marks respectively. Zedek Musila and Evelyn Hadulu closed the school's top pupils' list with 406 and 402 marks, respectively.
Meanwhile, Machakos Primary School, a public school, had at least seven pupils score above 400 marks.
Kainda Abigael scored 417 to seal the number two position in the school situated in Machakos town, Nicole Ndanu came third with 411 marks, while Mutunga Emmanuel got 403 and Mwaniki Victor 402, coming fourth and fifth respectively.
Caren Nduva and Robert Mwaka had a tie of 400 marks, and they closed the bracket of those who had at least 400 marks.
At Star Sheikh Academy, Athi River, Rachel Kavindu scored 419 marks followed by Doyo Bonaya with 418 marks. Abdallah Darrow scored 407 marks.
[Paul Ogemba, Erastus Mulwa, Kamau Muthoni, Nanjinia Wamuswa, Graham Kajilwa and Josephat Thiong'o]