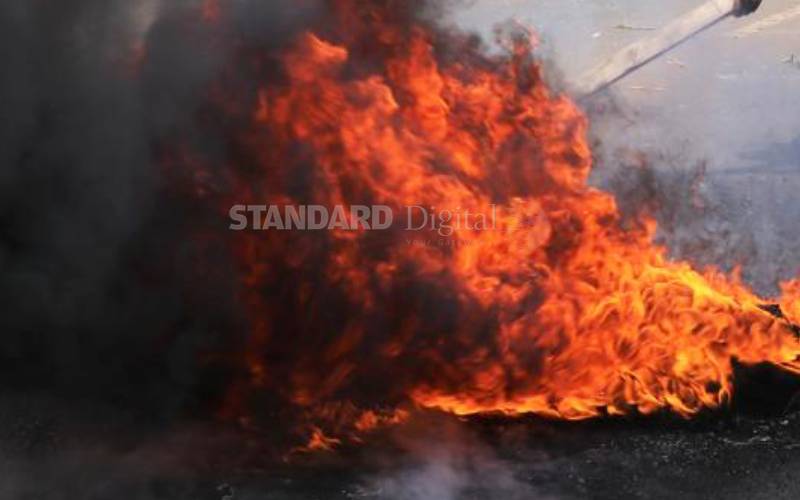 Property worth Sh12 million was reduced to ashes after fire razed down a store at Koyonzo Boys Secondary School in Matungu, Kakamega. The cause of the fire is yet to be established. Seven students were taken to Koyonzo police station for questioning. The fire broke out on Friday midnight in one of the rooms used to store Form I, II and III students' properties.
SEE ALSO: Watford sack coach Pearson with two games remaining
Students' mattresses and metallic boxes were destroyed. The school Board of Management chairman Francis Namuswa said the boys were calm and police are investigating the cause of the fire. Namuswa said at around 12.30am they saw smoke on the roof. Students and teachers rushed to put it out but not much could be done. The Mumias Sugar Company fire engine arrived to help stop the fire from spreading.
SEE ALSO: Business as usual attitude not good for vibrant sector
Namuswa said the 250 candidates sitting the ongoing Kenya Certificate of Secondary Education (KCSE) exam are safe. Matungu police boss Alex Ndili said the seven were not arrested but were helping the investigative unit to establish the cause of the fire. "We are using anyone who has any information on the fire as we have no conclusive cause of the same," said Ndili. A forensic team was brought to the scene to collect evidence. Last week, the students started a riot that involved calling in the police.
SEE ALSO: No KCPE, no KCSE this year
The cause of the unrest was reported as distress among the candidates who claimed the KCSE exam is hard. During the incident the students told the county education officers they didn't recognise the current principal. According to sources at the school who didn't want to be named, the students are against new principal Boaz Adit. The school in 2013 had all candidates' national examination results canceled for alleged malpractice. Last year, five examination officials from the same school were arrested and charged with jointly conspiring to commit a misdemeanour of passing information to candidates sitting the French paper. The fire at Koyonzo happens a week after another one at Musingu High School.