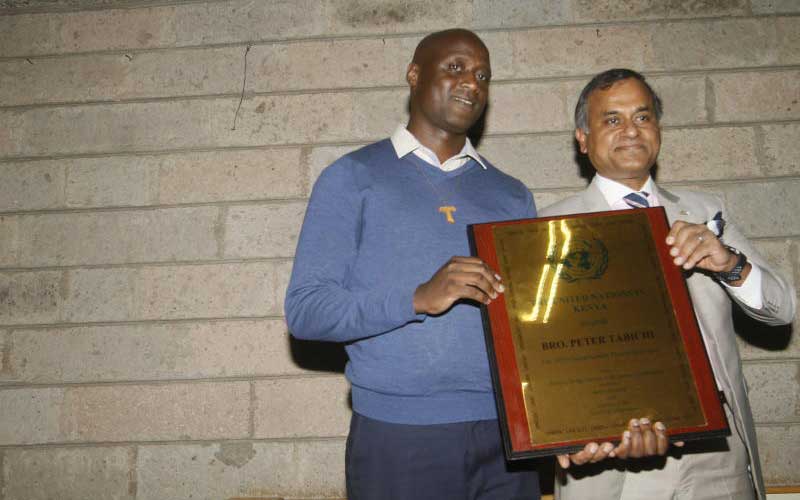 I look at myself in disbelief, teacher Peter Mokaya Tabichi says of his journey to the top.
The world's top teacher for 2019 has pulled yet another surprise feat even as he relishes the first one. He has been named the 2019 United Nations (UN) person of the year in Kenya.
The man who in March became the first teacher in Africa to win the world teacher of the year award called for concerted efforts to ensure all children went to school
Read More
The two coveted awards have left 37-year-old science and mathematics teacher marveling at how a barefoot primary school pupil in rural Nyamira County countryside rose to such dizzying heights in the teaching profession
Tabichi, who prior to his surprise Vorkey Foundation Global Teacher Award had never met face to face with a president, was wowed by an invitation from the White House to meet United States President Donald Trump, the world's most powerful man.
"I was startled. The impact of that meeting only dawned on me when I looked at photographs taken at the occasion. It was real. I thanked my late mother's spirit for being by my side in a most extraordinary journey. I was convinced that she was right there at the White House with me," he says.
Showcasing devices
Tabichi lost his mother at age 11, leaving him with his father and siblings. He is immensely grateful to his father, a teacher by profession, for giving his all "to our upbringing and education" and encouraging him to take up teaching as a career.
"That is why I took him along with me to Dubai to witness my life's achievement that he made possible. Father and son were boarding a plane for the first time," says Tabichi about the award ceremony that placed him on top of the world.
Prior to his apogee in the White House, Tabichi, a St Francis order brother, had addressed the UN General Assembly in New York and at a separate event recited St Francis Peace Prayer before a session of the US Congress in Washington DC.
I caught up with Tabichi at the Railway Primary School in Nairobi where, in his capacity as the Dettol Clean School Brand Ambassador, he played 'Guest of Honour' during the 2019 Global Handwashing Ceremony.
Reflecting on the Global Teacher Prize for 2019 that he beat over 10,000 teachers globally from 179 countries to win, Tabichi says he least expected it. "I nearly declined to participate in spite of a colleague's spirited encouragement that I do so. I compared my chance of winning to a chicken's teeth that are non-existent," he says.
Little did he know that attributes such as dedicating 80 per cent of his salary to local community projects inclusive of fees for disadvantaged pupils, peace building and sustainable agriculture in a food-deficient environment would endear him to the judges.
A Science and Mathematics teacher at the erstwhile unknown Keriko Mixed Day Secondary School in Nakuru County, Tabichi came up with a Science nurturing club in a school that boasted only one computer. He says the initiative helped pupils design research projects that qualified them for national competitions.
"It came as a surprise to many when a school they had hardly heard of shone at the Kenya Science and Engineering Fair, 2018 by showcasing devices students had invented to enable blind and deaf people measure objects. The school came first nationally," he says.
The teacher says his students have also won the Royal Society of Chemistry after harnessing local plant life to generate electricity and in May this year, two Keriko students bagged the United Nations Sustainable Development Goal Award at the International Science and Engineering Fair that came with a grand prize of Sh200,000.
Tabichi laments that he has not had enough time for his students since winning the global prize.
"Yes, my students are my family because I do not have a family of my own as I do not intend to marry in keeping with my Franciscan Catholic formation vows. Franciscan brothers and sisters do not marry," says the 37-year-old.
What does he intend to do with the US$1 million (Sh100 million) cash award that accompanied the prize? Tabichi says: "Empower society starting with my school. Start a foundation to educate orphans and other disadvantaged children".
Tabichi believes every child has a gift and only needs to be cranked up to realise their potential. "Nobody was born hopeless; I want to use my prize to reach as many neglected young people as possible," he says.
He notes with regret that 72 million children were in danger of missing out on education in Africa alone due to war, drought, floods and other challenges.
Tabichi was born in Mokorongosi Village in Nyamira County and went to Kerongo Primary School about seven kilometres from his home, a distance he jogged barefoot.
He joined little-known Nyansabakwa Secondary School where he excelled in Mathematics and Science. He attended the Formation of Franciscan Brotherhood upon graduation to learn Christian values, taking his first vows in 2011/2012 after which he was posted to Uganda as a Franciscan father volunteer teacher.
"I returned to Kenya a year later to become the Dean of Students at St Francis Secondary School, Lare in Nakuru, where I taught Mathematics and Physics," he says. St Franciscan fathers eventually transferred him to neighbouring disadvantaged Keriko Mixed Day Secondary School to uplift its standards.