Varsity accounts frozen over Sh670 million tax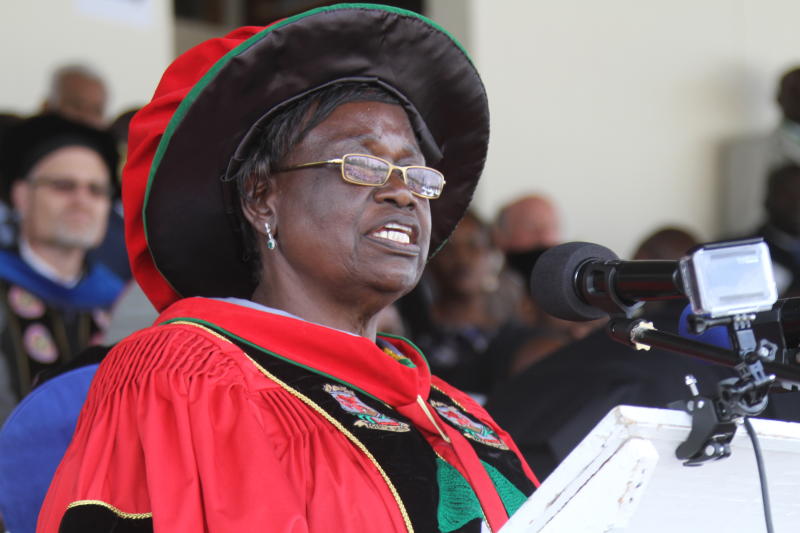 Egerton University is facing a financial crisis after the Kenya Revenue Authority froze its bank accounts over non-remittance of Sh670 million in taxes.
Sources at KRA told The Standard they have been pushing the university to clear the arrears for the past two years in vain, with reports the institution is broke.
They also claimed Vice Chancellor Rose Mwonya was last week arrested in Nairobi over the tax issue and later freed, reports she denied.
Staff said their payslips showed the university had made all the deductions but were, however, not remitted to KRA.
But yesterday, Prof Mwonya called for calm among students and staff, saying the university had reached an agreement with the taxman on how to settle the outstanding debt.
"I assure the Egerton University students, staff and stakeholders that all is well and that the programmes will continue smoothly as scheduled," she said in a signed statement.
She also dismissed as misinformation reports that KRA detectives arrested and detained her in Nairobi last week.
But documents seen by The Standard showed the university has not only failed to remit Pay As You Earn (PAYE) to the State tax collection agency, but has also for a long time defaulted in remitting workers' deductions to almost all statutory bodies.
Pension deduction
The Standard has established that pension deduction for employees to the National Social Security Fund (NSSF) has accumulated to Sh400 million.
Employees' deduction to the Egerton University Savings and Credit Cooperative Society has accumulated to over Sh400 million while union deductions totalling to Sh560 million have not been paid.
Last year, the Commission of Cooperative Development froze the university bank accounts owing to a debt amounting to Sh246 million.
Yesterday, interviews with staff and union officials revealed that services at the university have grounded to a halt following the freezing of its bank accounts.
"We have a major cash flow problem here, the students cannot get some essential requirements especially in the laboratories where we have no reagents. Vehicles have stalled due to lack of fuel. Things are getting worst here," said a senior lecturer who did not wish to be named.
Another lecturer and an official of the University Non-Teaching Staff Union (Untensu), said what ails Egerton is poor leadership.
"The university is suffering because of mismanagement of funds, misplaced priorities and lack of vision among university leadership," said the official who spoke on condition of anonymity.
Not priority
The trade unionist was referring to the construction of the Sh70 million gate at the Njoro campus, which many felt was never a priority for the institution that was facing serious financial problems.
Last year, the university council suspended Pro Mwonya before the Employment and Labour Relations Court reinstated her.
She denied allegations of embezzlement of funds, saying those doing so were acting on malice and not facts.
Yesterday, Mwonya maintained that the financial crisis at Egerton was not different from what all public universities were currently in.