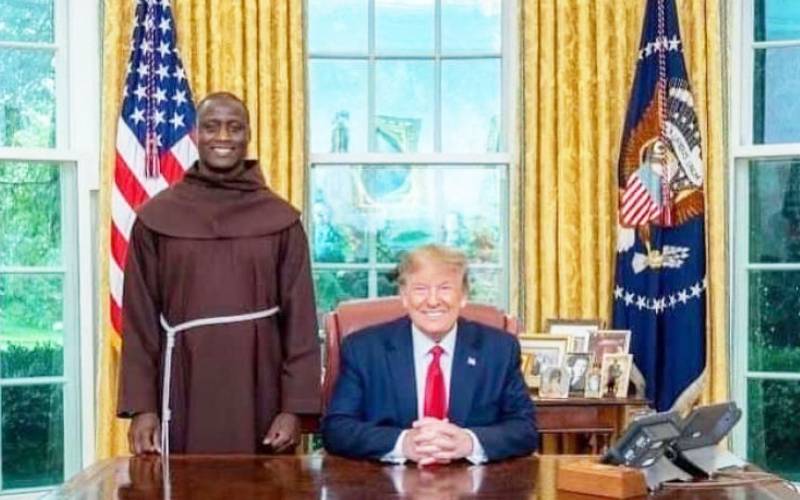 Being hosted by the president of the most powerful country in the world is no mean feat.
So when Global Teacher Prize 2019 winner Peter Tabichi was hosted by US President Donald Trump in the White House, he was elated and humbled at the same time.
Read More
Besides Trump, Tabichi also met with officials of the world's largest financial institutions.
Never in his wildest dreams had he thought that someday he would meet such leaders.
"It all sounded like a dream. It started with a firm handshake, then a pat on the back before President Trump looked at me and congratulated me. I then realised I was there, at the White House, with President Trump," he said.
Humble teacher
During the White House visit, which is part of his itinerary in the US following his win in March this year, Tabichi was accompanied by Varkey Foundation Chairman Vikas Pota and billionaire Founder of Varkey Foundation, Sunny Varkey.
So far during his tour, Tabichi has visited the World Bank, Google offices, Unicef's Education Cannot Wait Programme (ECW) and UN General Assembly.
Tabichi, who grew up in the remote village of Mokogoisi village in Nyamira County, teaches at Keriko Day Secondary School in Nakuru. He is a member of the Franciscan friars, a religious order founded by St Francis of Asisi.
In his meeting at the Google offices, he said he campaigned on Africa's home grown-solution and technologies that are key in revamping education sector.
"Wherever I go, I tell people my story as a humble teacher who shot to the limelight as a result of my students. I employed innovative approaches and technologies to make sciences easier and more engaging and that changed the script for good," he said.
He also appreciated the tech giant on the positive impacts it has had in supporting education in Africa.
"I highlighted the potential Africa has, noting that it has so much to offer," he added.
In his meeting with (ECW) Unicef's global fund to prioritise education in humanitarian action, Tabichi said he talked on possible approaches of boosting education even in areas that often experience crisis and conflicts.
In April this year, ECW appointed Tabichi as the first Champion for Children in Conflicts and Crisis, giving him a duty to champion for 75 million children globally, whose education is disrupted by conflicts and natural disasters.
"With travels to the world's most crisis-affected children and planned engagements at the 2019 United Nations General Assembly and other high-level events, Tabichi's inspiring story and powerful voice will help raise the urgency on the world stage to invest in the future of girls and boys left behind in crisis," EWC said in a statement.
Tabichi toured the World Bank offices where he was honoured.
"World Bank shared their great belief in learners in Africa and they are also looking forward to continue promoting education through various initiatives," he said.
And among his invites by global tech organisations, he said, was an invite by Google and Code, a company that aims to encourage learners to pursue computer science.
"I had been invited to deliver a key note address at the Code.org offices and also graced Google offices where we talked on impacts on technologies in Africa and possible ways of boosting it," he said.
Tabichi talked on how technologies in computer science eases learning, noting he integrates technologies on 80 per cent of his lessons in maths and physics.
"Technology and computer science can be a force for good in the world, but only if we give every student the opportunity to learn how to harness and create technology. Such an important power shouldn't be limited," read part of his speech.
On Tuesday, Tabichi graced the UN Assembly where he opened the session with Special Prayer of Saint Francis. In some of the sessions, Tabichi addressed topics on education with major focus on children in conflict and crisis.
"I will be addressing the session from the teacher perspective where I will be talking about education for children in vulnerable areas," he added.
But his itinerary does not end there. Tabichi is slated to give a keynote address during the World Teacher Day Celebrations in October. He has been invited for the global celebrations in Las Vegas, where he will join other educators across the globe.
Big projects
"It is a handful, but all for the good of teachers and learners across the globe," he said.
The Global Teacher Prize winner said the itineraries are part of high-level meetings themed on education he is expected to undertake alongside his projects.
"All meetings are themed on education and much of this year is really backed up with travelling. I am, however, starting to implement my big projects as from early next year," he said.
Tabichi plans to build a computer laboratory with internet connectivity for Keriko Day to benefit students and the local community.
He also plans to collaborate with local organisations to motivate teachers through talks and workshops besides nurturing talents clubs, science clubs and inter-school science project competitions.