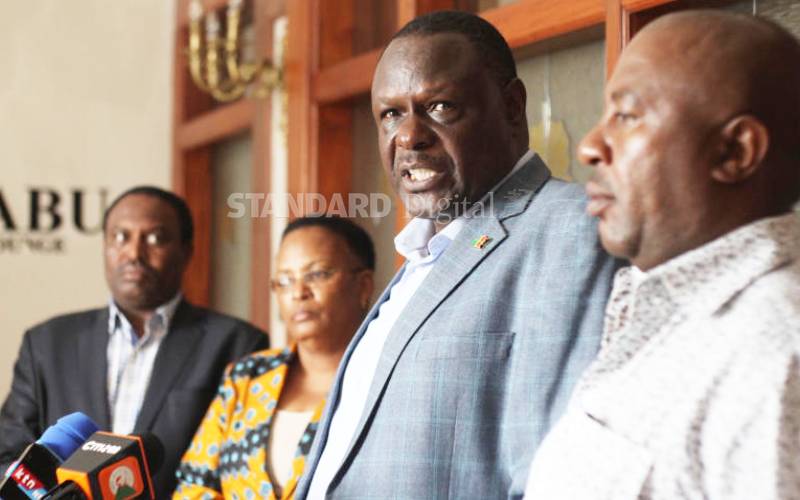 Secondary school heads have rejected a Government
move
to close clinics set up in their institutions to offer medical services to students under the Sh4 billion health scheme. It emerged yesterday that the National Hospital Insurance Fund (NHIF) has directed hospitals that set up outpatient facilities in schools to pull out. NHIF also stopped payments to any claims from the school-based facilities, causing more confusion in the medical cover targeting more than 3 million students. Kenya Secondary School Heads Association (Kessha) Chairman Kahi Indimuli yesterday said the development had caused confusion in schools.
SEE ALSO: NHIF to cover bills incurred by Covid-19 patients
"I have received complaints from principals that cases of indiscipline among students have gone up, as learners make requests to get out of schools compounds," said
Mr
Indimuli (pictured). He said in some instances, students had been exposed to insecurity, while operational costs had gone up in some schools as institutions made frequent arrangements to ferry sick students to clinics at night. "Learning is also disrupted most of the time, as students spend more time outside schools over ailments that can be managed within schools," Indimuli added. Kenya Union of Post Primary Education Teachers (Kuppet)
Secretary General
Akello
Misori
asked the Ministry of Education to clear the air on the matter. "We cannot afford to send children to faraway clinics at night because of insecurity, and it also eats into teaching time," said
Mr
Misori.
SEE ALSO: Kenya's coveted corner offices where careers end in tears
NHIF is administering the Government's comprehensive medical scheme for secondary school children, which is being rolled out through the Education ministry. The students' enhanced package includes out-patient services, in-patient services, dental, optical, daycare services, local road ambulance, and emergency air rescue services. Cases that require overseas air evacuation, general and
specialised
services, overseas management for cases not treated in the country, funeral expenses and group life are also part of the package. The medical cover caters for all secondary school learners at a cost of Sh1,350 per student per year. Under the scheme christened EduAfya, schools were required to have small clinics for emergencies and small ailments, with major complications being referred to bigger hospitals. A Ministry of Education circular released in June directed principals to choose service providers to offer services in schools.
SEE ALSO: NHIF to reap more from public service
The June 24 circular by Basic Education Principal Secretary Belio Kipsang directed that the selection of facilities be done in consultation with local NHIF providers. Prof Kipsang also asked schools to submit names of health facilities nearer to their institutions for accreditation by NHIF. The list of more than 5,000 hospitals includes accredited mission or faith-based facilities and accredited private hospitals. What has shocked school heads is the NHIF communication released to some of the hospitals by fund's regional managers. "You are therefore advised to withdraw any staff you may have stationed in any school to offer medical services on your behalf," reads the letter from NHIF to a health facility in Kisumu. "You are also advised not to submit any claims in your possession that may have been raised from the
above mentioned
arrangements," says the September 5 letter signed by Michael
Mukua
, an NHIF quality assurance officer in Kisumu. Indimuli yesterday said many branches had received similar communication and termed them irresponsible.