JKUAT Architecture staff trained on new tutoring programmes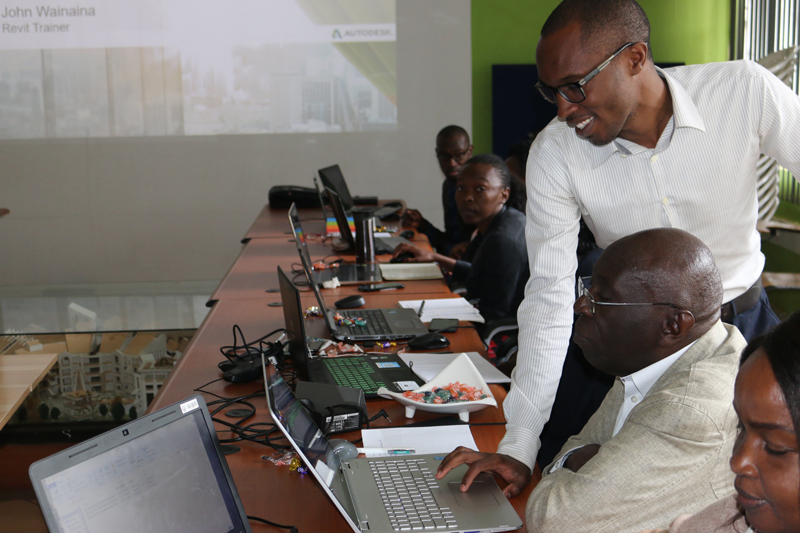 The Jomo Kenyatta University of Agriculture and Technology's School of Architecture and Building Sciences (SABS) held a five-day training on Autodesk programmes and Building Information Modelling (BIM) from July 15 - 19, 2019.
According to faculty members who participated in the training, the new programmes which will be used to tutor students, are aimed at changing the way buildings and wider infrastructure are planned and developed from design through to execution and maintenance.
The programmes utilize raw data and turn them into valuable, actionable information that can help deliver value during every stage of the construction and conceptualization processes.
The programmes which make use of multiple dimensions such as 3-dimensions, 4-dimesions and 5-dimensions of exterior and interior properties, are expected to increase insight and productivity, efficient work flows, improved project outcomes and insightful decision making among other things.
Speaking on the training that was undertaken at the school's technology house, the dean, SABS, Prof. Stephen Diang'a said that the programmes will encourage joint collaboration among architects while at the same time, enhancing conceptualization of projects by the students.
"This programmes allows for alteration and improvement of concepts since many architects can work together on the same projects," said Prof. Diang'a.
Prof. Diang'a revealed that plans were underway to avail the programmes to the students and other Schools and Colleges within JKUAT. He lauded the Autodesk for facilitating the training and providing internship and job opportunities for students.
"So far some of the students are undertaking internships with a number of them guaranteed job opportunities," said Prof. Diang'a, further stating that plans were underway to collaborate with Autodesk on other areas which he said, will be beneficial to the students.
JKUAT benefited from Autodesk's two programmes and training as part of the collaboration between the two institutions, a move that is poised to boost training of students.
Arch. Nadi Hashim, who is the chairman of the Architectural department amplifying the sentiments of the dean, saying that the collaborative training will provide opportunities for students to explore BIM as a platform for designing across all related disciplines in the built environment.
He further said that the additional skills will ensure JKUAT students are in sync with the latest technological practices.