West Pokot, where there are tablets but no classrooms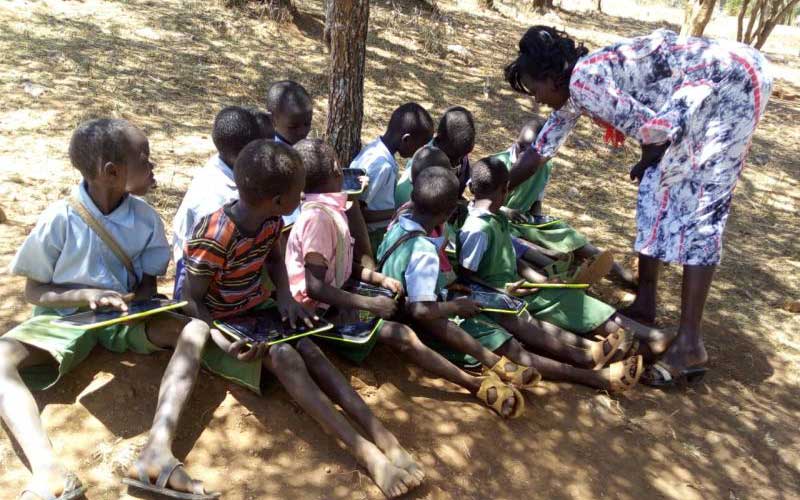 Lopalekwa Primary school in West Pokot county presents everything that is warped of Jubilee government's digital literacy programme.
Five years after the launch of multi-billion Jubilee Laptop project, the school is yet to make much of it as the gadgets found them grappling with bigger problems.
At the school and throughout lessons, the pupils sit on stones, under the scorching sun.
"We have been forced to lock the gadgets in a cupboard since we cannot work with them in the dust," head teacher Philip Tinja told the Sunday Standard team of the 36 tablets received.
Tinja said the school has only three classrooms which are incomplete and they are too dusty
"I have been trained together with my deputy but we cannot use the gadgets since we don't have conducive environment to enable us teach the children," he said.
He said the school which started in 2008 has only four teachers employed by Teacher's Service Commission with a population of over 200 children.
The head teacher said the school is faced with many challenges and asked well wishers to cheap in and help them in setting up permanent structures.
He said pupils share classrooms and lower classes are forced to learn under trees.
"Class seven and six share one classroom, five and four, three and two share another class," he said.
He said the school has only twenty desks and pupils in lower classes are forced to seat on the floor or on stones during class time.
About sanitation, the head teacher said the school has only two toilets and male teachers share with boys.
"When I was posted here in 2018 I tried to convince parents to bring children back to school that's why the school has picked and now its has reached class eight," he said.
"We got few funds from the government that have enabled us to set up some classes. Its really a big challenge to both the teacher's and pupils. " he said
One of the parents, Leonard Linakou said that the school requires good classes and tablets are not a priority to them.
Linakou said that the school is connected to power but lacks even toilets.
"Teachers also sit on stones during classes, during rainy its also a challenge books are blown off and tablets rained on. " he said.
He urged TSC to send more teachers to the school since parents are unable to pay teachers.
"Most parents are poor and cannot afford to pay the teachers. The government should consider our school when employing teachers. We can not transfer our pupils because the nearest school is 5 kilometers away. " he said.
However, according to west pokot county education director mr Jacob onyiego 66 percent of pupils in the county have embraced digital literacy.
Speaking to the standard in his office Onyiego further revealed that although West Pokot is among the marginalized counties most of the pupils have been given the tablets and are using them during class lessons.
He said the ministry of education has distributed 19495 LDDs to the pupils, 664 laptops for the teachers, 332 digital content wireless router and one projector per school across the county and teachers have been trained to teach pupils.
He added that the county government has more than 500 primary schools and so far only 332 schools have been installed with the devices.
"The project has been faced with some challenges like slow adaptation and no power but we want learners in West Pokot county to be at bar with other learners across the country. " he said.
Onyiego noted that no incident of misusing the gadgets have been reported citing that in some areas where there is insecurity the schools are required to store the gadgets at chiefs office for them to be safe.