Standard Group reaches out with Transform Kenya basic education forum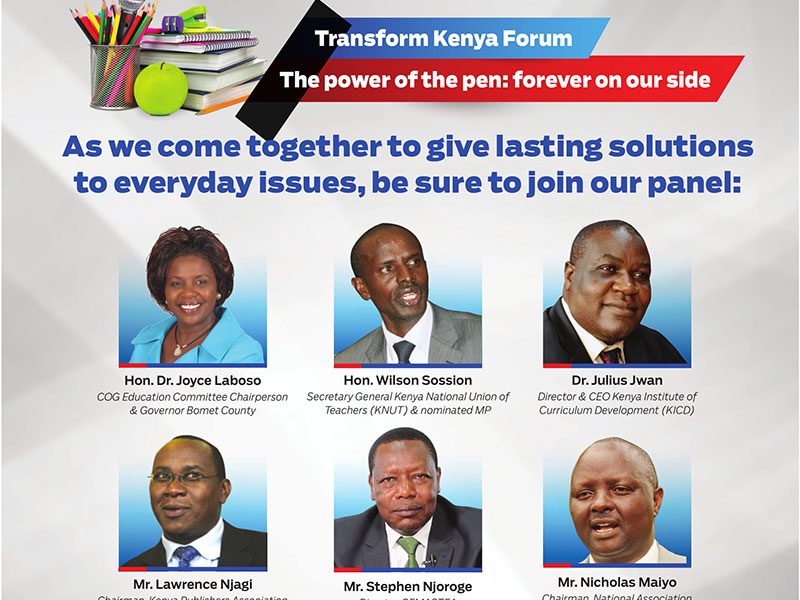 The Standard Group in partnership with the Ministry of Education, Centre for Mathematics, Science and Technology Education in Africa (CEMASTEA), the Kenya Institute of Curriculum Development (KICD) and Strathmore Business School has finalised preparations for the Transform Kenya Basic Education forum.
The Transform Kenya Basic Education forum will be held on Tuesday February 26, at the Strathmore Business School.
This is the fourth edition of the Transform Kenya campaign after the first one on June 5, 2018 in Kwale County, focusing on environment. The second edition was held on September 6, 2018 at Strathmore, Nairobi. The third edition took place on October 25, 2018 at the Strathmore Business School.
Transform Kenya aims to influence new ways of doing things by according as many Kenyans as possible the opportunity to contribute to the debate on national development.
The Standard Group amplifies these conversations on print, radio, TV and online platforms to spur national conversation across a wide range of selected topics.
Using the hashtag #TransformKenyaSG, the forum will be live on KTN NEWS from 6 to 9pm and will be highly interactive as the moderator fields questions to panelists from both audience and social media engagements. The event will be hosted by KTN's Sharon Momanyi and Frank Otieno.
Panelists will be Dr Joyce Laboso (Council of Governors Education Committee Chairperson and Governor Bomet County), Hon Wilson Sossion (Secretary-General Kenya National Union of Teachers [KNUT] and nominated MP), Dr Julius Jwan (Director and CEO Kenya Institute of Curriculum Development [KICD]), Mr Lawrence Njagi (Chairman, Kenya Publishers Association), Mr Stephen Njoroge (Director, CEMASTEA) and Mr Nicholas Maiyo (Chairman, National Association of Parents).