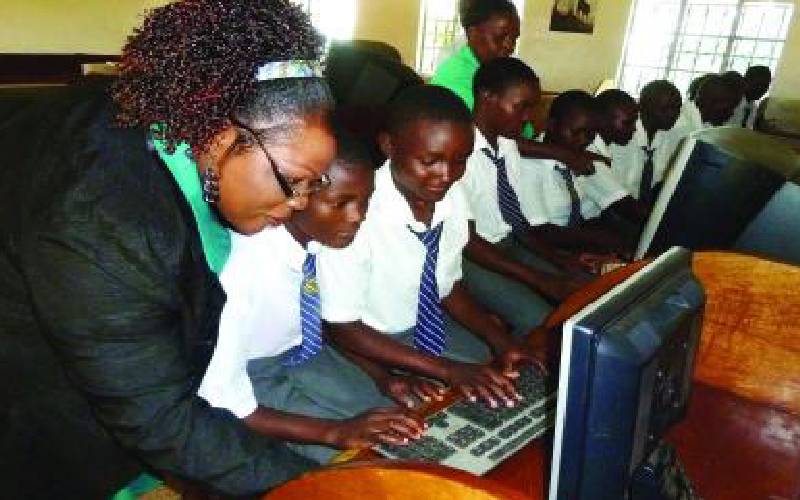 An audit report on expenditure in secondary schools has revealed several additional costs that threaten to push up the annual fees payable per child.
The report shows that under each vote head, schools pay more money for services and activities not taken care of under ministry's annual capitation expenditure guidelines.
Costs such as leave, medical, commuter and overtime allowances paid to non-teaching staff are not covered in capitation disbursements.
The annual increment and implementation of government directives on minimum wages and payment of casual labourers and salaries for teachers contracted by the institution boards are also not catered for.
Medical costs
The additional levies are also spread across medical costs, personal emoluments and vote heads such as electricity and water.
And with the annual threat of school unrests, principals say they undertake various expenditure towards the security of their institutions.
The details are contained in the report prepared by Kenya Secondary School Heads Association (Kessha) to push for 2019 fees increase in national, extra-county, county and sub-county schools.
The report was given to Education Cabinet Secretary Amina Mohamed in December last year.
Under the just concluded Form One admission campaign, heads say the government does not release funds to cater for essential items.
Desks and chairs -- which school heads say cost Sh4,900 per student -- for the increased enrollments are never catered for in the annual disbursements. Covers and binding of new textbooks supplied by the government also costs Sh60 each for the 11 course books, translating to Sh660 per student.
"Teachers' reference materials are not catered for by the ministry. With the new textbook policy, most subjects were not supplied with these materials. The government should allocate Sh120 per student to cater for the teachers' references materials," reads the report.
"These additional levies should form part of the Sh4,792 tuition vote head per child which currently only caters for text books, exercise books, laboratory equipment and chemicals".
Reference, library, teaching and learning materials, chalk, computers and computer accessories, desks and chairs, grid board, school stationery and class tables and chairs are also funded by the capitation fees.
Heads, however, say that the money is inadequate, as most schools have expanded their curriculum to offer more examinable subjects. Principals have proposed an increment of this vote head to Sh5,642 per child per year.
Under the repairs and maintenance, the government does not fund up to five items, the report says.
Fumigation, replacing of windowpanes, kitchen and laboratory repairs, replacement of asbestos roofing and ramps, rails and pavements are also not funded.
The Sh5,846 paid by the government only caters for repair of desks and chairs, renovations and alterations, brooms/drainage rods, costs for plumber, carpenter and masonry.
Also catered for under the fees are ground maintenance such as fences and hedges, school improvements such as roof repairs and repainting and facelift
"The capitation is reasonable for normal maintenance of the schools. However, major repairs and improvement of existing infrastructure and capital development cannot be funded by the vote head. It is worth to note that most facilities in many schools were built when the instititutions were started and are now dilapidated, thus there is need for constant repairs and maintenance," the report reads.
It further says that labour cost for carrying out repair works has substantially gone up in recent years and proposes that for school development projects, the government should allow boards of management to levy for capital development.
On local travel and transport, school heads say the Sh3,454 per child only covers Board of Management and Parents Association travelling expenses, local travel, accommodation and subsistence for teachers during seminars.
It also covers workshops, conferences, hiring of vehicles, vehicle maintenance, fuel, educational tours, lunch allowances and imprest.
However, principals say they spend more money on inter-school activities, repainting of school vehicles, purchasing of comprehensive insurance cover for vehicles, various meetings, trainings, workshops and conferences.
Costs to facilitate school motor vehicle valuation, National Transport and Safety Authority (NTSA) inspection and stickers are not covered.
Schools with other power-driven machinery such as tractors and lawn mowers incur more expenditure in terms of fuel and maintenance.
Security systems
The report also says that most day schools hire vehicles whenever they need to transport their students for various tours and activities and cites the high cost of fuel.
"A proposed levy of Sh6,330 for schools is therefore made for this vote head which has always been underfunded," reads the report.
Secondary school heads have also listed several items under administration vote head that are not covered by government funding.
The report says that the Sh5,088 only caters for office stationery, communication and postage, telephone bills, rentals, subscriptions (DSTV) and Internet services.
It also says that most schools have Internet connection for ease of learning and communication. Parts of these initiatives have also resulted to computerised work such as accounts, examination analysis, timetables, bulk short message system and clock in/out for staff to increase efficiency.
The money also caters for printing of receipts, local purchase orders (LPOs), cashbooks, ledgers, inventories and also buys non-teaching staff uniforms and other accessories.
Also under the vote head are office cleaning materials, refreshments, toners and cartridges, bank charges, prize giving / Annual General Meetings and office machine servicing.
The principals say that in addition to these, schools also invest in office equipment and furniture. And due to school unrest, they also put money on security systems installation and maintenance, insurance of school property and workers and purchase of fire extinguishers and refills.
Prayer days and academic clinics, motivational speakers and hospitality are also funded yet capitation does not cover these activities.
Purchase of CCTV systems arising from ministry directive to schools are also funded by schools.
"A fee of Sh7,400 per student is therefore proposed in 2019," reads the report.