TVET, 'Standard' partners to run a skills show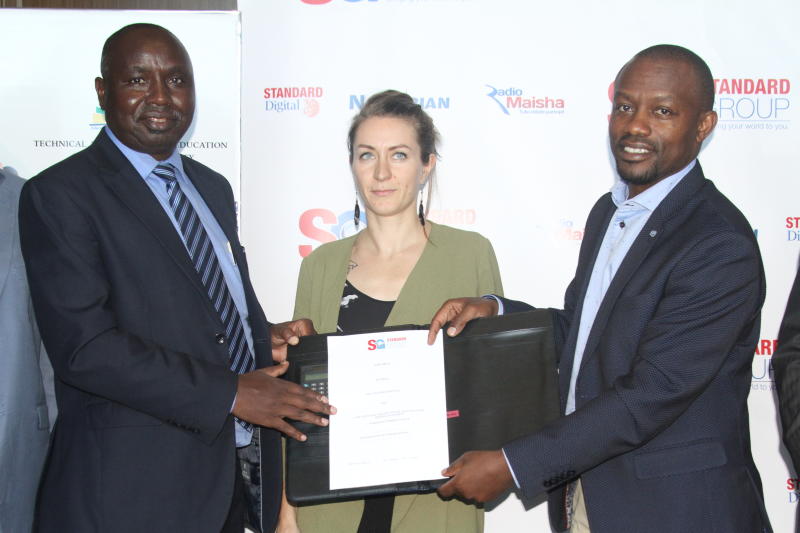 The Technical and Vocational Education and Training Authority (TVETA) has partnered with the Standard Group to run a show that seeks to promote the uptake of vocational training.
Through the "Hands on the Future" skills show, the authority seeks to sensitise youth on opportunities in technical and vocational training, improve public perception, as well as provide a collaborative forum for TVET stakeholders.
Speaking at the partnership signing ceremony where Standard Group is coming in the media partner, TVETA Director General Dr Kipkirui Lang'at said it comes at a time many youth had underrated the value of technical education, yet it was one of the pathways the country could take to become an industrial economy.
He was confident that through the show, students leaving school will be sensitised and will take TVET as the first choice rather than as an alternative venue to success in life.
"Developed economies like Germany have emphasised TVET education, Kenya is not an exception," he said.
On his part, Standard Group CEO Orlando Lyomu welcomed the initiative, saying it was an opportunity for the two institutions to work together to drive uptake of technical and vocational training.
"The partnership is a sign that (our) relationship is growing strong since we have been working together on other initiatives that have delivered results," he said, adding the group would channel more resources into it.
"We will continue doing our best to ensure that the objectives of this initiative are fully achieved," he said.
At the same time, Kevin Doyle, the show's organiser, said the show -- to run between February 8 and 10 at the KICC in Nairobi -- will be an opportunity to inspire many unemployed youth to join TVET institutions.
"This will be Kenya's largest interactive skills and careers event that will entail, among other things, exhibitions, workshops as well as one-on-one sessions with career counsellors," he added.