Kenyan poet beats continent to bag Kiswahili award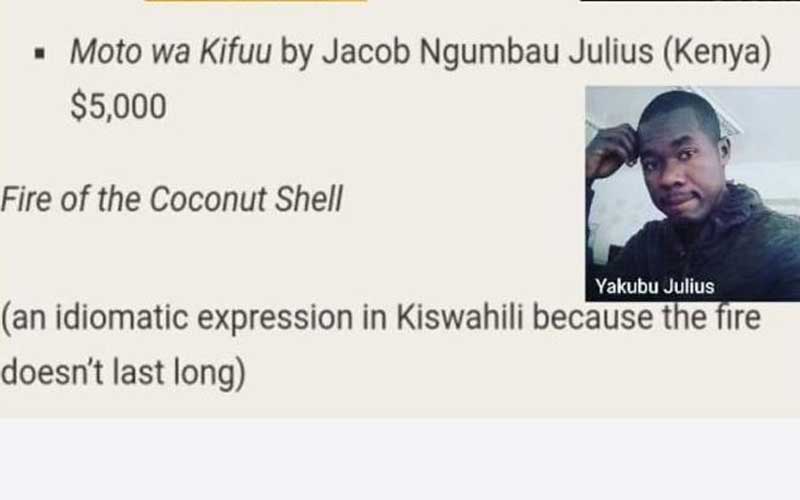 A Kenyan poet is among the winners of the 2018 Mabati-Cornell Kiswahili Prize for African Literature to be feted next month in Tanzania.
Jacob Ngumbau emerged victorious for his Kiswahili poetry work "Moto wa Kifuu" (Fire of the Coconut Shell) and will take home a prize of Sh500,000 during a ceremony to be held in Dar es Salaam on February 15.
Tanzania's Zainab Baharoon was also declared a winner for his novel Mungu Hakopeshwi and takes home a similar prize in an event organized by ALAF Ltd, a member of the Safal Group.
The announcement of the two winners was made on Wednesday by the African literature prize board chairperson Abdilatif Abdalla who had said the awards were meant to promote the use of African languages in literature.
The winners were among four other competitors who were shortlisted towards the end of last year.
Others who were also shortlisted but missed the prize included Kenya's Shisia Wasilwa who authored the novel Makovu ya Uhai.
Three Tanzanian writers who were also nominated were Bashiru Abdallah for his poem "Wino wa Dhahabu," poet Mohamed Idrisa who penned "Sauti Yangu" and Yasini Hamisi for his prose fiction Kilinge cha Hukumu ya Dhambi.
The six were selected from 116 entries of manuscripts chosen by three judges. The award, co-sponsored by Mabati Rolling Mills and Cornell University, recognizes writers and their works of fiction in local language.
The award targeted the best unpublished manuscripts or books in the categories of fiction, poetry and memoir, and novels published within two years of the award year.
Apparently, the works of the two winners will ultimately be published in Kiswahili by Mkuki na Nyota Publishers and East African Educational Publishers (EAEP) while the best poetry book by Kenya's Ngumbau will also be published in English translation by the Africa Poetry Book Fund.
The prize was founded in 2014 by Dr. Lizzy Attree (Richmond/Goldsmith's) and Dr. Mukoma Wa Ngugi (Cornell University) who expressed goal of recognizing writing in African languages and encouraging translation from, between and into African languages.
The panelists were made up of judges including Ahmad Kipacha, a lecturer of Research Communication with the Nelson Mandela African Institution of Science and Technology in Tanzania, and Natalie Arnold Koenings, a fiction writer, translator and anthropologist at Hampshire College in Massachusetts, USA. Kiswahili professor Rocha Chimerah, a literary critic and novelist was also among the judges.
Notable Kenyan writer Prof Ngugi wa Thiong'o is among the Prize's Board of Trustees. Others include Dr Mukoma wa Ngugi, Henry Chakava, Chege Githiora, Lizzy Attree, Happiness Bulugu, Rajeev Shah, Carole Davies and Walter Bgoya.