Teacher's skill and passion help blind learners keep up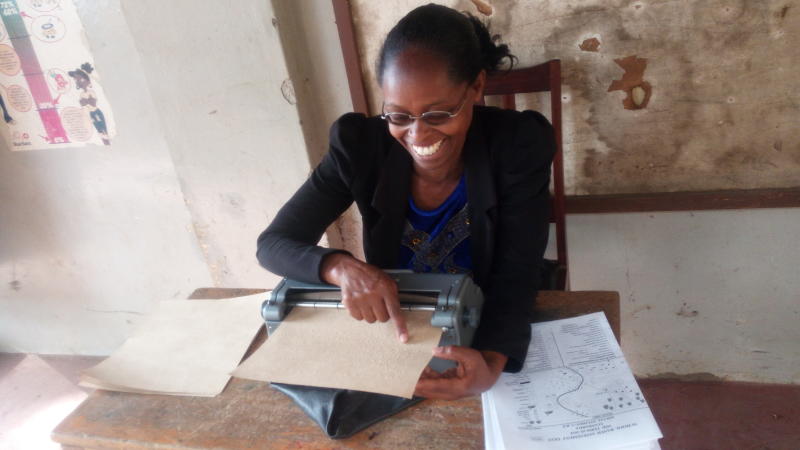 Armed with white cane, visually-impaired pupils queue at the library at Menengai Primary School. At hand to assist them is Anne Wanjohi, who monitors their academic work.
Ms Wanjohi interprets print to braille, drawing diagrams, thermophoning (photocopying braille work) and assists the pupils to read and write braille.
"It is beginning of the lessons this is why there is a long queue of learners because they need to have printed work translated into braille to enable them understand classwork," she explains as she translates Standard One Mathematics text book to braille.
Without interpretation, it is difficult for visually-impaired learners to keep up with other children. Work at the school is overwhelming for the transcriber who also serves the county.
She is expected to interpret literature to braille in exercise and textbooks for the newly introduced syllabus by the Ministry of Education.
Whereas the ministry recently dispatched textbooks to schools, visually-impaired children were not considered.
"Interpretation to braille is time and energy consuming because of bulkiness of work as compared to printed material used by children with good sight. For example now, I am interpreting exercise and text books of new syllabus to enhance smooth learning because we were not supplied with braille books," says Wanjohi.
Wanjohi also helps teachers to prepare lessons and marking of braille work. "Braille work should be accurate, if not, it will mislead learners who might end up not grasping respective lessons and topics," she explains.
The manual braille machines used for translation at times become faulty, and the transcriber is forced to service them for smooth learning at the school. "I not only interpret learning material, I also handle all work that entails braille learners because they study same lessons with normal children," she explains.
She further binds braille books for durability. "Braille material are in high volume and can easily be tempered with because of movement from class to our department, this is why we bind to keep them safe," says Wanjohi.
Conducting civic education
The transcriber encourages parents to enroll visually-impaired children in school by conducting civic education in chief barazas, churches and visiting homes.
Interpretation of a single page of examination paper takes approximately one hour with six pages taking a full day, work she is expected to deliver on time to enable the visually impaired to be at par with other learners.
Braille books are expensive making it difficult for each learner to have a copy, for example, one volume of mathematics book costs Sh2,000. A book has at least seven volumes.
"The government is purchasing books for respective schools, but it is unfortunate we do not have supply of braille books for the visually impaired. I am therefore forced to interpret the books," says Wanjohi.
Despite being overwhelmed is patient enough to assist learners.
"Stigma against visually-impaired children and other disability can only be fought through provision of education. This is why I usually encourage parents to enroll their children in school," she says.
Unfortunately the mother of three has not received her Sh14,000 pay for the past six months. "I wake up each single day to large volume of work for learners, the work is at times overwhelming but I have the passion to assist the visually impaired, they depend on me and if I fail, I fail them," says Wanjohi as she translates several learning material for the lesson of the day.
Wanjohi has been a transcriber for the past two decades.
She developed interest in the job after she visited Thika School for the Blind and found visually-impaired children unable to read and write, because of inadequate braille books. Wanjohi enrolled at the school as a transcriber to assist the children.
There are only seven transcribers in the country.