It's a hard knock life for tutors and learners in island schools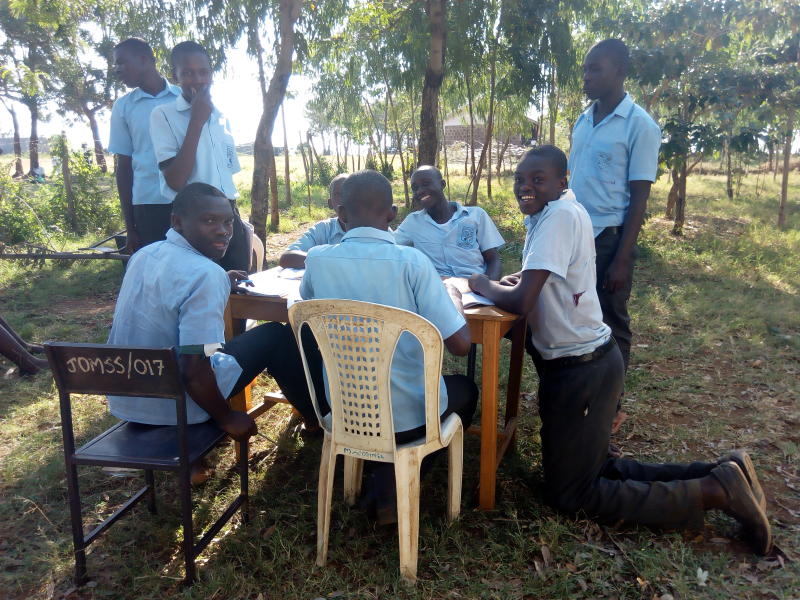 Until recently, Christine Achieng, 13, a class seven pupil at Mageta Primary School in Siaya County had to endure a one-hour walk on a rough road to purchase kerosene.
For her, it was this long trek or the inconvenience of an extinguished lamp or homework done in candlelight.
She and her family would occasionally suffer chest problems caused by the dirty smoke from the kerosene lamp. But thanks to a non-governmental organisation, Achieng can now do her homework using light from a cleaner source.
Under its off grid power programme, Ace Africa has installed solar lights in three public primary schools in the island. Now, Achieng can stay a little longer in school to finish her homework.
Christopher Otieno, a teacher at Ndeda Island Primary School, has seen it all. Having been a teacher in the island for more than five years, he has bitter experiences to narrate..
Saturday Standard caught up with him at Uyawi beach at around 11am ready to board a boat to the island.
Expensive life
"We are very late. The first boat to the island leaves at 10am and that means I've already missed the morning classes," he says.
The islands are kilometres apart and the only means of accessing them is by boat, which is costly.
Otieno spends more than Sh2,000 monthly on transport alone on a general passenger boat. The cost rises drastically whenever he has to hire a private boat for his pupils to go the mainland for co-curriculum activities.
"In times of events like sports and the music festival, where you are bound by the circumstances to hire a private boat, one can spend up to Sh10,000 on a one-way trip," he says.
His counterpart, Moses Apina, who was recently posted to Sika Primary School in Mageta Island, says it is a complete contrast from his previous station.
"Most communications are passed to us through Whatsapp, but due to poor network, we sometimes get the messages later than our colleagues in the mainland," says Apina.
Peter Ochieng, the headteacher of Sir Henry's Primary, the only private school in the island, says the challenges are more pronounced during the national examinations.
"As head teachers, we are forced to spend nights in the mainland so we can pick the examination materials early in the morning," he says.
Francis Odembo, the head teacher of Mitundu Primary school, says they are unable to use the laptops provided to them by the government due to lack of power and inadequate training.
"Our pupils have not been able to use the laptops because their teachers were only trained for one day using only one laptop," he said.
In the islands, alcohol and sex are cheaper than food. Most teenage students have fallen victim to this.
"Due to the kind of lifestyle in the islands, the pupils are left with no choice but to engage in other activities besides education to eke a living. In the process, these activities ruin their education and life," said Mr Odembo.
Residents of Oyamo and Mageta islands say illicit sexual relations between pupils and fishermen are on the rise. And it is difficult to report such incidents as one has to cross over to the mainland to get help from authorities.
According to a resident, Peter Aduwa, many girls in the islands have dropped out of school after becoming pregnant. And in most cases, their lovers abandon them.
"We have very many cases of young girls getting pregnant in our islands, but which go unreported since our villages are neglected. It seems like a misfortune for one to be born an islander," says Aduwa.
Odembo says this state of lawlessness is rampant in almost all of the islands and has led to truancy among the pupils.
Lonely life
Mary Anyango, a resident of Sifu Island, says parents looking for birth certificates for their children have to travel to Bondo or the Huduma Centre in Siaya town.
"To get a birth certificate at Sh50, you're forced to spend between Sh650 and Sh800 on boat transport alone," she says.
Stephen Odongo, a teacher at Joachim Owang' Mixed Secondary School in Mageta, says many of his students take education as an uncertain means to an end.
"The islands are virtually cut off from the rest of the world and we rarely enjoy some of the necessities of life. Our students lack role models because the only people they see around are nurses, teachers, policemen and fishermen," he says.
This also affects the teachers because they never get to interact with their colleagues in the mainland.
Joachim Owang has no infrastructure befitting an only secondary school for miles. The school has only one science laboratory, which is currently being used as a classroom due to shortage.
"There are only 12 teachers here. Only six of them are employed by the Teachers Service Commission (TSC)," says Mr Odongo.
The schools rely on government and non-governmental organisations for support.
Bondo MP Gideon Ochanda says the cost of building classrooms in the island is high.
"Whereas building a classroom in the mainland would cost roughly Sh500,000, building the same in the island will cost you double because everything has to be transported from the mainland," said Ochanda.