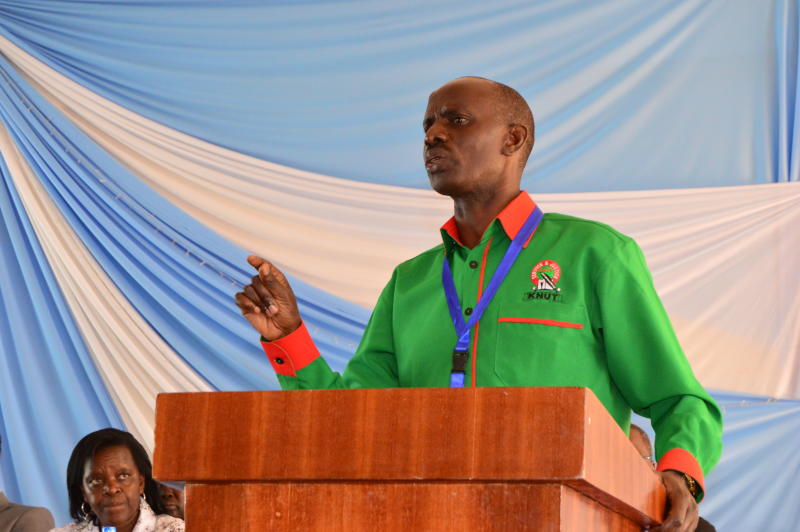 The Kenya National Union of Teachers (KNUT) has maintained that teachers will go on strike once schools open for third term in September if their employer does not drop policies deemed disadvantageous to tutors. Speaking at Masinde Muliro University of Science and Technology on Sunday, KNUT Secretary General Wilson Sossion said the Teachers Service Commission (TSC) should drop the recently enacted policies that hurt the welfare of teachers. Mr Sossion was speaking during the World Transformative Education Conference at MMUST. He said delocalization and appraisal of teachers was being implemented by TSC without consulting stakeholders in the sector. "This dictatorial tendencies by TSC has hurt the morale of teachers. The claims by the teacher's employer that the policies are contained in the Collective Bargaining Agreement (CBA) was untrue and we are ready to challenge this in court. The policies are discriminative and intimidating to teachers," Sossion said.
SEE ALSO: Teachers get more hospitals in medical scheme
The union is now calling on TSC boss Nancy Macharia to rescind the decision to delocalize teachers away from their home areas. Sossion said the current unrests being witnessed in schools where students are torching down dormitories and classes was as a result of taking teachers from there stations to other areas. "You cannot transfer a teacher from Western Kenya to Eastern region. The students identify themselves with a certain teacher and by taking him away, you demoralize them which in turn lead to the students posting poor results," he said. He added: "You cannot take a teacher away from his family. TSC should stop the implementation of such inhuman policies or else we down our tools in third term," Sossion also lamented that the government had also delayed in disbursing cash meant for free primary and secondary education on time, adding, the move has paralyzed operations in the schools.
SEE ALSO: Seize Covid-19 induced learning hiatus to improve education system
Elsewhere in Bungoma County, area Senator Moses Wetang'ula cautioned TSC against transfer of teachers since its breaking up marriages. "You find a husband and wife being transferred to different parts of the country and seeing each other is not easy. Their children also suffer since they are either left alone under care of someone or forced each time to change schools, their parents are transferred,'' said Wetang'ula. The Ford Kenya party leader also asked Education CS Amina Mohammed to reinstate corporal in schools to instill discipline to the students, saying lack of punishment in schools has made students unruly.