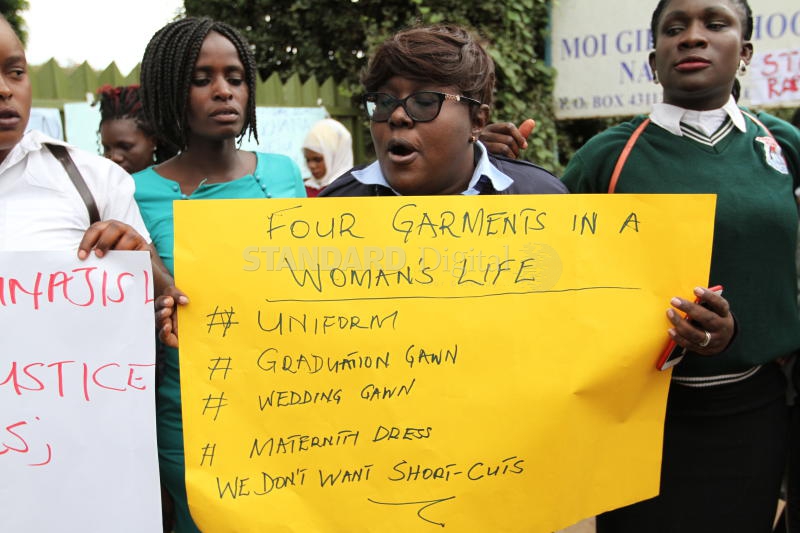 Hours and places in schools where rogue teachers lure students for sexual relations have been exposed.
Also revealed are the tactics the sex pests employ to cover up their vile acts.
In the past three years, 162 teachers have been banned from practice, but the Teachers Service Commission (TSC) acknowledges more cases could have gone unreported.
Some head teachers who were interviewed said hostile teachers frustrated attempts to punish offenders.
The problem has been thrust into the national limelight by the reported rape of a student at Moi Girls School Nairobi, for which DNA samples of 90 male teachers and non-teaching staff have been taken in an investigation to nail the culprits.
Read More
Multiple interviews with head teachers and students on the sex crimes appeared to corroborate a latest global report on education.
In Kenya, one in five women and men who experienced sexual violence before the age of 18 reported that the first incident occurred at school.
Sexual favours
Interviews with students reveal that most sexual activities take place between 9pm and 11pm after evening studies, also known as preps.
It also emerged that more time is created during games time – between 4pm and 6.30pm - when most students are preoccupied with various sports or scattered within the compound.
"During this time you cannot account for everyone. You might assume a student is out for games, studying or in the dormitory yet she is teacher's office," said one of the students who left boarding school last year.
Another one said most school administrators were strict during preps, games or other co-curricular, but relaxed the rules afterwards.
"After preps no one cares what happens. This is the time that some students visit private offices within the school compound or disappear into darkness," she said.
In some schools, during preps, some students run to fetch water, others wash clothes while some just engage in friendly conversations in the school compound.
"This confusion is enough time for one to sneak to a private office or meet up a teacher or even a school worker for sexual favours," she added.
They said most sexual encounters take place in private offices, especially at the departmental sections.
"I banned any visits to departmental offices because this is where it all happens. In my school it is out of bounds," said a principal in Nyanza.
Principals who spoke yesterday expressed their frustrations with the vice.
A principal in one of the boarding schools in Mombasa said male teachers rebel against the head teacher in cases where firm action is taken.
"I have interdicted two teachers over sexual cases. But they sabotaged me and ganged up against me. This is why most teachers cover up because of the consequences," said the principal.
And the sexual advances take various forms. In day schools, teachers meet up with female students away from principals and parents watch.
Another principal said that some teachers entice students with pocket money of as low as Sh50.
In some cases, teachers openly favour some students with some awarding them more marks.
Reports also indicate that some sexual abuses take place during entertainment nights when students demand booming music.
It also emerged that some male teachers entice female students with mobile phones to communicate with friends and family.
"Usually the teacher tells you to come to his office after peps to use the phone after preps," the former students said.
And some support staff also entice female students through their workstations.
"A guard would allow you to break some rules or a cook may give you more food or bigger slices of bread."
In the past three years, TSC has deregistered 162 male teachers for sexually harassing their students.
Data from the TSC shows that in 2015, some 126 teachers were struck off the teaching roll.
Of these, 100 male teachers were kicked out of the profession for sexually harassing their students.
Further details shows that in 2016, some 22 teachers were deregistered after evidence showed they sexually abused female students.
And last year, TSC announced that some 40 male teachers were blacklisted and degazzetted for sexually abusing students.
The stark statistics paint a shocking reality in schools with questions emerging whether students are safe under the people expected to mentor them.
Education Cabinet Secretary Amina Mohammed and TSC Chief Executive Nancy Macharia yesterday admitted the vice was rife in schools but blamed massive cover up.
"We are aware of this and we always deregister these teachers once we establish that they engaged in the acts," said Ms Macharia.
Ms Amina said schools have become institutions of sin with some parents, teachers and the local community engaging in cover-ups.
"Is student safety in schools guaranteed? I cannot tell you that. They are part of the society and a lot of bad things happen. But we have laws and they must be enforced when bad things happen," said Amina.
Macharia said there was a lot of cover up of sexual cases in schools and admitted that the statistics could be bigger than reported.
Scratching surface
The shocking revelations emerged as a recent United Nations report revealed that most people in Kenya experienced their first sexual harassment in school.
The Global Status Report (2017) on School Violence and Bullying says that experience of sexual violence at school is common in many countries.
"In Kenya, one in five women and men who experienced sexual violence before the age of 18 reported that the first incident occurred at school," reads the United Nations Educational, Scientific and Cultural Organisation report.
"There is a lot of cover up and what we are dealing with could be scratching the surface," she said.
Yesterday, police in Homa Bay said they had launched an investigation into an incident where a man allegedly sneaked into Rusinga Girls Secondary School in Suba North and attempted to rape the students.
The incident happened at dawn on Saturday, but only came to light yesterday.
Homa Bay County Police Commander Marius Tum said the school administration was hesitant to report the matter to police.
Mr Tum however added that they reported to the chief.