Amina Mohammed instructs striking lecturers to resume duty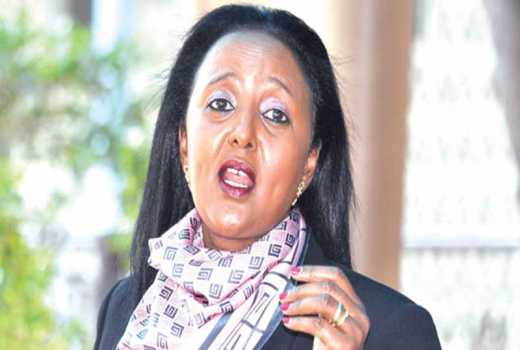 Education Cabinet Secretary Amina Mohammed has instructed all striking dons to resume duties without delay.
This was after an initiative to form a special team which will work on a counter collective bargaining agreement (CBA).
Amina noted that plans were underway to reform university education in Kenya.
"We believe it is time to find a sustainable solution to this issue so that when our children join university, they can learn without disruption."
Amina had earlier on asked the tasked team to prepare its report on the 2017-2021 collective bargaining agreement (CBA) within a month.
"The committee shall undertake the assignment within a period of one month giving priority to determination of a counter-offer for the 2017/2021 CBA or within such other period as may be notified in the Gazette, and submit a report within two weeks after the expiry of the period," she said in a statement.
This means that the team has between two weeks and one month to complete the job after which university workers will have a counter-offer tabled. It also means that learning in public universities will stall for at least another two weeks as the team collects data to inform an advisory to the ministry on the strike.
The University Academic Staff Union and the Kenya Universities Staff Union rejected the counter-offer placed before them by vice-chancellors, saying it lacked a financial component.
Instead, the unions demanded that negotiations be anchored on the Sh38 billion proposal presented to the Education Ministry and the National Treasury by vice-chancellors.
The committee, chaired by KCA University Vice-Chancellor Noah Midamba, will also audit university education including staffing, programmes, and enrolment.
Joint secretaries
University Education Principal Secretary Micheni Ntiba is the co-chairperson of the team, whose membership also includes the PSs of the National Treasury and the ministries of Interior, Public Service, and Youth Affairs.
The Institute of Human Resource Management, the Salaries and Remuneration Commission, and the Retirement Benefits Authority are also represented in the committee. Anne Kaiga and Philip Nyingi will be joint secretaries to the committee.
To fight drought, involve communities
According to the latest information from the Meteorological Department, rainfall will be poorly distributed in April, May and June, and this will have a serious impact on agriculture