Victims narrate their experiences after being kicked out of school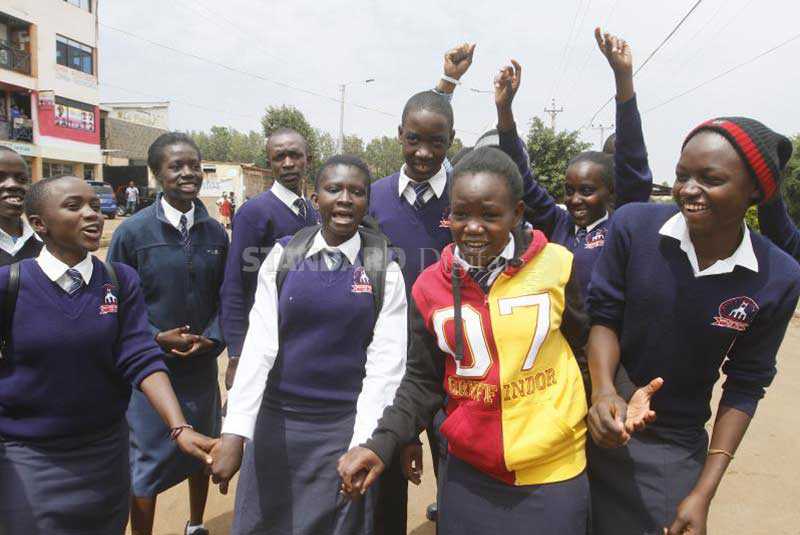 Students of St Mary's Mission Hospital High School in Lang'ata yesterday protested the harassment by suspected hired goons. The students camped outside the hospital compound after security officers denied them entry.
The learners were sent home last week after Assumption Sisters of Nairobi (ASN) took over ownership of the school. The demonstrating students, who were joined by parents, asked the Government to intervene and ensure that they continued with their studies.
They also want the Government to protect them from hired goons who warned them of dire consequences should they go near the school.
"Where is (acting Education Cabinet Secretary Fred) Matiang'i? We have been beaten and stoned and no one has intervened. I don't know if I will register or sit for the national examinations," said Russell Ochieng, a Form Four student.
"We are lost. We don't know where to go next. If we had money we could have joined other schools," said Laura Jepkorir, another Form Four student.
Parents interviewed accused the Ministry of Education of ignoring the students' plight even after the press aired the matter.
"We are facing frustration here. Some of us cannot even register and do our examinations. Even some of the Form Four students who finished last year cannot get clearance," said Jepkorir.
More than 100 students were locked out of the school as a bitter war between a Catholic priest and ASN over control of the multi-billion-shilling mission hospitals worsened after the nuns took over the school.
When the learners sought refuge in a school dormitory situated outside the school, the goons pursued them and ordered them out. With nowhere else to stay as they waited to learn their academic fate, some went back to the Good Samaritan Children Rehabilitation Centre in Mathare, where they originally came from.
Dreams dimmed
Abshir Hassan, 20, has been spending his time at the Mathare Community Library where he had gone to read or "pretend to read" as he put it.
"I was meant to join Form Four and register as a candidate but I am not sure of that now. I go to the library to read and escape from the fact that we are not in school," said the tall, slender Abshir, who wants to be a teacher in future.
Similarly, Benson Irungu, 14, who was set to join Form Two, mingled with younger children in an attempt to forget the reality. Not even consolation from David Kagwiria, a former student of the school who now studies biology at Kisii University, could offer them hope.
"I have been talking to them but it is very hard. I hope the Government will intervene," said Mr Kagwiria, a third year student.
School principal Alexander Kaboro does not understand why the nuns ejected them when the institution was being funded by Medical Mission Charitable, a different entity.
"Students were looking at me and hoping to hear something positive but I was as lost as they were," said Mr Kaboro.
An education official who said he was not authorised to speak to the press revealed that they had received a report on the matter and were looking forward to a positive outcome.
Meanwhile, the fate of 40 learners scheduled to join Form One remains unknown as the new legal owners kicked out the school that sits on the hospital land.