Good news for parents as State slashes school fees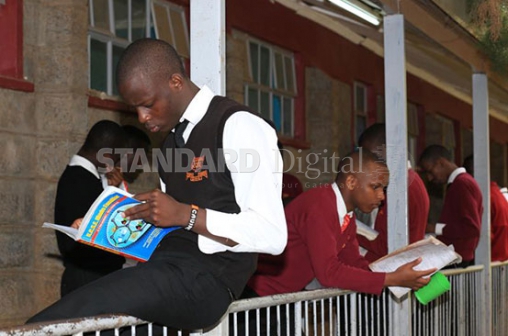 It's now official that parents have been relieved the burden of fees in day secondary schools as the Government rolls out free education.
And those with children in boarding secondary schools will pay a maximum of Sh53,000 after the Government increased the subsidy per student.
Finer details of the much-awaited programme reveal the State will now pay Sh22,244 per child annually.
Currently, each student receives Sh12,870 per year from the Government and each parent is required to pay Sh9,374 per year in fees.
This will not be the case anymore.
New guidelines released by the Ministry of Education say all day secondary schools will be free.
Parents will only be required to buy school uniforms for their children, meet lunch costs and the boarding-related levies that will only be reflected in fee structures.
Education Cabinet Secretary Fred Matiang'i told Parliament last year that county education officials would take full responsibility of schools in their regions.
This means that editing levies in fees structure must be authorised.
Parents will also be required to clear all balances for continuing students accrued before January 2018.
The guidelines released yesterday, however, state all day secondary education fees will paid by the Government.
"In order to ensure a 100 per cent transition for learners and remove the burden from parents, the parent component of Sh9,374 has been taken up and as such, learners in day-schools will not pay any fees," reads the circular.
This means that each child will get an additional Sh9,374.
The guidelines for the implementation of free day secondary education is dated October 19, 2017 and signed by Education PS Belio Kipsang.
The document says that the Government will take care of all the vote heads in day secondary schools.
This means that teaching and learning materials, repairs and maintenance, local travel and transport and all administrative costs of schools will be met by the Government.
However, it will be the responsibility of schools' boards of management to recruit non-teaching staff.
"To minimise the cost of secondary education, it is necessary to rationalise the recruitment of non-teaching staff. It shall be responsibility of parents to hire them at terms commensurate with qualifications and capacity to pay," reads the circular.
Kipsang said the Government would release first tranche of free secondary education money next month.
"The first disbursement in December and subsequent disbursements are in April and August each year or as resources flow from the Treasury," he said.
And for boarding schools, days of paying up to Sh100,000 in fees are over. The highest fees will now be Sh53,554, for both national and extra-county schools.