Kenya: Higher education capture by the elite hurting quality of learning and grade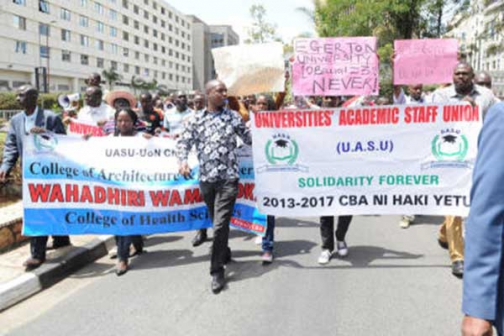 The government's own instigated audit on universities has exposed a foul-smelling can of worms that nearly choked Education Cabinet Secretary Fred Matiang'i.
But in his wisdom or just fear, Dr Matiang'i has decided that the content of the audit report is too much for public consumption, especially when probably the General Election is six months away. However, no matter what the government intends to do now with the report, the rot in the universities is almost beyond repair, as it has unmasked massive scale of elite capture.
Explicitly branching from state capture, which is a systemic form of political corruption whereby unethical state functionaries, often in cahoots with private interests raid public resources, elite capture is ideally a process whereby a few individuals of a superior quality hijacks public resources, be it economic, educational, political, or otherwise, to benefit themselves. According to Prof Abdul Kasozi, the former executive director of Uganda's National Council for Higher Education, elite capture of higher education in Sub-Saharan Africa, kicked off with orchestrated enrolments in public universities through parallel programmes and rise of rogue institutions.
Developing policy
As elsewhere in Sub-Saharan Africa, massification of higher education intensified in Kenya at the dawn of the 21st century, when the government efforts to save public universities from collapse for lack of funds, allowed admissions of full-cost-tuition paying students. Notably, the selection was made from interested persons that had minimum university entry requirements, based on their attainment of an average C-plus in KCSE, or two A-level passes of one sitting in addition to their ability to pay for their education without queuing for government assistance.
But immediately the system appeared to be working, floodgates opened and university education became almost for all who could pay for it, a situation that turned sour when universities competed for students even with junior colleges. Eventually after universities vacuumed most of the candidates who had met the general entrance requirements, in concert, universities expanded the admission criteria to include a wide range of middle-level college certificates and diplomas.
Overnight, a P1 certificate became an entry point for Bachelor of Education (B Ed) courses, while qualifications from the Kenya Accountants and Secretaries National Examinations Board (Kasneb), City and Guilds, and other professional bodies became new entry points that often offered exemptions, allowing holders of such certificates to complete bachelor's degrees in two years. In a short time, almost all diplomas irrespective of which institution offered them became, more or less entry points for admission to degree programmes, sadly creating skewed options for mediocre students to graduate before their bright and deserving counterparts.
Although the Commission for University Education under the Universities Act No. 42 of 2012 has been vested with powers of developing policy for criteria and requirements for admission to universities, to date, no specific guidelines have been expressly given to the universities. Subsequently, individual universities have taken the advantage of setting their own admission rules. In this matter, CUE under various chairmen and executive officers had been a toothless bulldog, affirming the adage that watchdogs of university education in Sub-Saharan Africa never bite.
In this regard, CUE has become a willing facilitator of elite capture by approving useless degrees whose holders can only get jobs through connections, while those without political connections are left to engage in 'streetology. Commenting on the issue recently, Pew Research Centre, a US- based think tank that informs on issues, attitudes and trends shaping the world, lack of connections and poor schooling are the largest obstacle to employment. "Sixty –four percent of Kenyans believe jobs are going only to people with connections," says Richard Wike, the director of global attitudes research at Pew Research Centre, in a study focusing on Kenya, Nigeria and South Africa.
The emerging scenario is that higher education in Kenya is increasingly becoming partisan, no longer slated to benefit anyone who gets it but it is just boosting chances of a few in society. Whereas parallel programmes were a noble idea, it has neither solved shortage of skilled manpower nor created equal chances for all degree holders to acquire jobs. In essence, parallel programmes to have given a leg up to those with connections or status in society, be it political or economic.
Subsequently, by awarding degrees to persons who have not studied or completed those programmes as per statutes, universities have willingly and knowingly perfected the process of elite capture. At least there is no other way one can explain about the existing opaque pathways for awarding degrees that was revealed in the just completed audit report. For instance in the last ten years, some politicians have been awarded degrees in conflict and resolution transformation, law, leadership and peace studies, while personal assistants have been awarded degrees in strategic management and store-keeping studies which have acquired new status in the universities as procurement and supplies management or supply chain and logistics.
Unfortunately, although CUE is mandated by law to be the chief regulator of university education in the country, it has just stood and watched and even approved degrees, whose content in other countries are offered in junior colleges or as minor unaccredited short courses and seminars. In total disregard of academic excellence and scholarship, CUE sanctioned and looked the other way when universities hastily established academic garages and learning sites, most of them without adequate learning space, libraries, basic sanitary services and qualified lecturers. In particular, CUE has failed miserably on its duty to enforce the Universities Rules and Regulations 2014 that have set out specific guidelines on how to establish a university, a university college and university campuses.
But probably more serious, CUE has just been a bystander when the unsettling problem of rampant grade inflation in the universities has been going on. In many instances, grade inflation in Kenya or elsewhere in the world, is a celebrated kid of elite capture, which is a process of raising marks, scores or grades, so that average and even below average performing students, appear as academic superstars. So far in the last ten years, universities have increased the number of students graduating with honours degrees and have almost erased ordinary pass degrees from their graduation rates. First- class and upper second- class degrees have risen steadily, wrongly or rightly sending signals that students have become better prepared and setting the stage for A grades for almost everyone.
However, if Matiang'i-led audit, is anything to go by, then there is little to suggest that students are studying much harder than in the past. Apart from the assumption that universities have taken their competition a notch higher by attracting students with higher grades, what cannot be ruled out is that elite capture of higher education goods is influencing rapacious grade inflation that will be hard to stop. Although the public is watching the unfolding scenario, it is certain perpetrators of elite capture are not about to give way to anyone who wants to destroy what they consider to be their entitlement to higher education benefits In this case, there is nothing to cheer for in that the government censorship of its report is a signal that elite capture cabals have won the first round. Sadly, this means reforms in university education are likely to stay in abeyance.