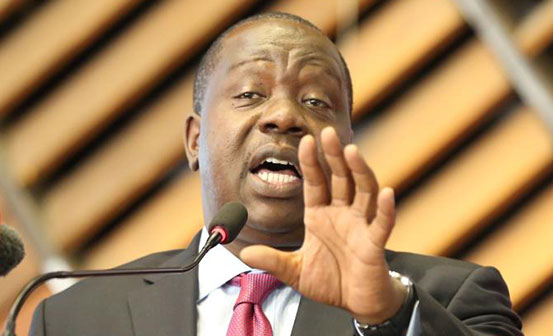 A new report on public universities has revealed shocking levels of academic theft in some institutions.
The universities audit report released Thursday by Education Cabinet Secretary Fred Matiang'i detailed how students and institutions conspire to go round the set standards of quality.
As part of the remedial action and to restore credibility to the country's higher education system, many degrees are set to be recalled. To further stop the rot, the report has outlined serious measures including scrapping of the school-based programmes. This is a blow to thousands of teachers who attend university classes during school holidays.
"All academic programmes under school-based programme or any other related names are stopped forthwith. Students on school based mode shall be required to continue training on part-time basis," reads the report.
Also affected are individuals who used Executive Master of Business Administration to pursue doctorate studies. Executive degree programmes have been suspended and individuals who graduated from such programmes will have their papers recalled.
At the same time those who gained admission to PhD classes using executive degree papers have been barred from teaching in Kenyan universities.
The report also recommended the recall of honorary degrees awarded in contravention of the universities standards and guidelines.
The extent of the rot in public universities detailed in the report is bound to shake the world of academia. For example, it cites how some universities offer non-accredited programmes, with some institutions drawing parallel graduation lists that clear unqualified students while locking out others. Other institutions do not keep students attendance records to ensure they meet set instructional hours. It also says that some universities have weak security controls for the academic certificates, making way for forgery.
The report prepared by Commission for University Education (CUE) last month further revealed that many students graduate prematurely without completing the set study time with some finishing a bachelor's degree in a record nine months.
In one shocking case, a student who sat Kenya Certificate of Secondary Education in 2010 with a D+ graduated with a bachelor's degree in less than two years. The student did a certificate programme between May and September 2011, obtained a distinction and got admitted to a diploma programme in a university, which ended in December 2013.
"She was then admitted in the same university in second year in March 2014 and graduated in December 2015, implying she took one year eight months," reads the report.
Matiang'i Thursday termed the findings of the quality inspection of universities report as containing 'serious challenges' that must be corrected. "Cases where enrolments and degree awards have been done irregularly will be worked on and we shall ensure this report is implemented," the CS said.
Though the statement by Matiang'i seemed mild, the recommendation of the report prepared by CUE recommends stern action: "Universities should take necessary steps to rectify the situation for the affected students which will include such actions but not limited to cancelling such admissions or recalling such awards."
The report further recommends that no student shall progress to the next academic class without passing all examinations and getting all marks or evidence of provisional marks.
Also shocking is the revelations that some universities are not adhering to the admission criteria, with some students securing entry to undergraduate programmes using pre-university and bridging programmes which are not recognised in law.
This means that thousands of students who graduated in the 70 private and public universities but did not meet the minimum admissions requirements will be recalled. The minimum university entry requirement is grade C+. "The contraventions include admitting students who do not meet the KCSE mean grade C+ requirement into degree programmes based on pre-university courses, bridging courses and P1 certificates," reads the report.
This means that the fate of thousands of P1 teachers who enrolled into universities to pursue degree programmes hangs in the balance. Grade P1 has since been scrapped. The report further reveals that some universities breached admissions standards by taking in students with credits and distinctions in diploma courses straight into second, third or even fourth academic year.
You might also like: Retired Archbishop Ndingi Mwana a'Nzeki now spends time in a wheelchair or bed
This means that persons who graduated in Kenyan universities but do not hold proper diploma papers will have their papers recalled. The details emerged Thursday during a stakeholders meeting that brought together council chairpersons, chancellors, vice chancellors, and principals of university colleges.
A senior government official who attended the closed-door meeting chaired by Matiang'i said the culpable universities will be reprimanded.
"The report is damning but its implementation will be done in a consultative manner (to avoid creating) friction among the stakeholders," said the official. Thursday, CUE chairperson Chacha Nyaigotti said a joint quality assurance working group had been formed to oversee the implementation.
Some universities admit students based on age, while others were admitted to masters degrees without bachelors degrees.