Fred Matiang'i plans to scrap national exams in radical curricular shift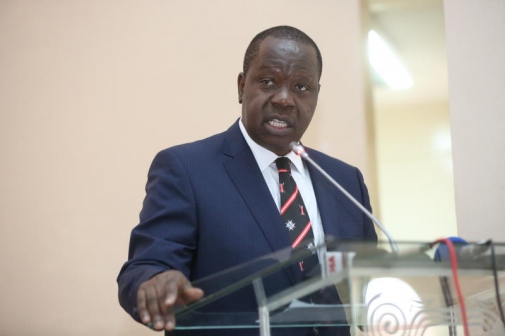 A new school system which abolishes the Kenya Certificate of Primary Education and Kenya Certificate of Secondary Education examinations will be tabled for approval on January 30.
The transition of learners from primary to secondary school without examinations is among several changes proposed in a new comprehensive radical reform plan.
Another is the scrapping of the 8-4-4 system, to be replaced by a curriculum which will reduce primary school from eight to six years, divided equally into lower and upper primary. It will bring back the six-year secondary education which was scrapped in 1985 as a pathway to university admission, replacing the current four years students spend in high school preparing for KCSE examination.
Education stakeholders are scheduled to make a decision on the new curriculum at a national conference in Nairobi. Delegates will analyse and debate the Basic Education Curriculum Framework to be presented by Education Cabinet Secretary Fred Matiang'i.
KCPE and KCSE exams will be replaced by Kenya Assessment Learners Achievement (KALE) and Kenya Certificate of Basic Education (KCBE), at primary and secondary schools, both of which will emphasise continuous assessment tests as opposed to final exams.
It is one of the boldest reform measures in Mr Matiang'i's assault on the 8-4-4 system, which has been termed unresponsive to the changing needs of the 21st century and criticised for its emphasis on end-term assessments. The new curriculum structure will introduce new learning levels from pre-school to tertiary education matched with children's ages.
Shied away
Although drafters of the curriculum have shied away from calling it a "system", a numeral representation of the various age-specific education levels points to a 2-6-6-3 system.
It will result in a 100-per cent transition rate from junior school to senior school, although that would mean massive government investment in schools expansion to accommodate the 15 per cent wastage in the current transition from primary to secondary school. Under the proposed curriculum, children will spend two years in nursery school and six years in lower and upper primary, each section divided into three years.
Secondary education will equally be split—lower and senior—with each section taking up three years.
However, in upper secondary, learners will be expected to specialise by taking up either of three paths — arts and sports, social sciences and science, technology, engineering and mathematics.
The Kenya Institute of Curriculum Development (KICD) experts have drafted an exams-format document entitled Framework for Assessment and Reporting of Learners that will be among the documents to be presented at the conference.
The proposed competence-based curriculum puts a premium on continuous assessment where teachers will conduct regular classroom assessments of learners at the pre-primary to Grade 12. Largely, the national examinations could end up accounting for only 30 per cent of the grade of candidates as opposed to the current situation where terminal KCPE and KCSE exams account for all the 100 marks on offer.
However, the Kenya National Examinations Council (Knec) will develop and administer KALE at end of Grade Three, Six, and Nine at the proposed Junior School.
The council will also develop and administer the KCBE for Senior School. According to the proposals, KALE will be a result of cumulative learning experiences covered by learners at the three key-level curriculum stages.
"The key-level curriculum outcomes are statements that identify what learners are expected to know and do at the end of Grade Three, Six, and Nine as a result of cumulative learning experiences in a learning area subject," the draft report says.
It adds: "The purpose of KALE is to determine whether learners are learning what they are expected to learn; and to inform Kenyans about how well learners are achieving the basic education curriculum."
Under the level exams, teachers will score the written tasks of KALE at scoring sessions under Knec supervision. "The selected responses from multiple-choice questions will be scored electronically by Knec," the report says. On completion of KALE, individual learner reports will be produced for each assessment and made accessible to parents.
The purpose of KALE will be to provide teachers with information to help plan teaching and take early interventions in learning areas with low scores. Parents will also use KALE results to get information about how their children are doing in various subject areas.
Using the KALE results, the Education ministry will make decisions on curriculum implementation, while the Teachers Service Commission will utilise the information to help build capacity of teachers to achieve better learning outcomes.
On its part, Knec will glean information on the achievement levels of the curriculum learning outcomes and suggest interventions for improvement where necessary.
Under the proposed changes, Knec will administer KALE in three levels — Kale 1 (Grade 3), Kale 2 (Grade 6), Kale 3 (Grade 9). The first will be KALE 1 that will be offered to the Lower Primary (Grade 3) pupils. All learners in Grade Three will sit the KALE 1 in three learning areas of Numeracy, Literacy (Reading and Writing) and Science. KALE 2 will be offered to Upper Primary (Grade 6) pupils, who will sit papers in Mathematics, Science and Literacy. But KALE 3 will be offered to Lower Secondary (Grade 9) students who will sit papers in six subjects including Mathematics, English and Integrated Science. Other subject areas are Social Studies, Kiswahili/Kenyan Sign Language and Pre-vocational Studies. Scores in terms of percentages and letter grades will be used to report the assessment at the end of Grade 9. According to the proposals, Knec will establish a KALE division to develop, administer and report national assessments in Grade Three, Six, and Nine of Kenya's basic education.
The council will also come up with policies and guidelines related to development, administration and reporting of KALE.
Hours and credits
For learners in grade 10-12, which will be called the senior school, contact time per subject will be counted in hours or credits towards their high school graduation.
A minimum of eight subjects will be taken totalling 2,592 hours or 72 credits. The assessment marks from Grade 10-12 for each subject will contribute 70 per cent of the Kenya Certificate of Basic Education (KCBE) overall mark.
The council will establish the Kenya Certificate of Basic Education (KCBE) division to develop, administer and report national examination in grade 12 of Kenya's Basic Education. The percentage and letter grades will be used to report performance for Grades 10-12.
Senior high graduation requirement checklist will be made available to grade 10 learners. For a learner to graduate from Senior High School, one must complete a minimum of eight subjects. Each subject will have a minimum of nine credits, where one credit is equivalent to 36 hours.
The KCBE will be awarded to learners who have completed the required senior high school subjects, after which they will be ready to proceed to any of three pathways.
Each pathway will have a number of tracks from which a learner will select subjects of their choice. "The pathways and tracks are designed to provide learners with an opportunity to take core and optional subjects that are linked to entry requirements of the post-secondary studies, training, or employment," says the draft document.