President Uhuru Kenyatta waives exam fee for private schools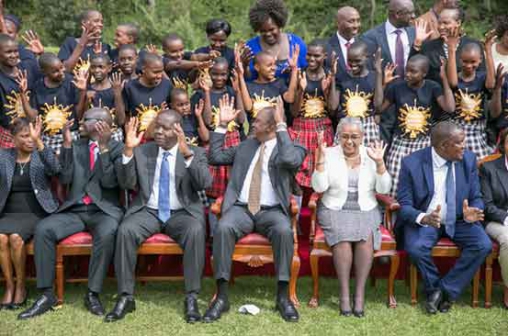 President Uhuru Kenyatta has announced a waiver of national examination fees for all private schools.
This comes after the President exempted candidates in all public institutions from paying exam fees to boost transition rate from primary to secondary schools.
Kenyatta praised private schools for participating in the Kenya Music Festival when he hosted winners of the 2016 Kenya Music Festival at State House, Nairobi, yesterday.
The President commended the quality of productions and performers as well as teachers. "The presentations I have seen today show that a lot of good work has been done and that's why I think the Teachers Service Commission should on the basis of the involvement of such teachers in these activities be promoted," he said. The President urged stakeholders in education and the arts to start marketing the festival aggressively for optimum output.
"I would like to urge the Sports, Arts and the Culture Ministry as well as Tourism Ministry to get into aggressive marketing of the fete so as to have full attendance for local and international audiences," he said. While appreciating the involvement of 400 students and over 100 teachers and government representatives from Uganda in the festival, the President asked participants to keep up the momentum to encourage other East African countries of Tanzania, Burundi and Rwanda to participate.
"This will make the music festival a truly East African festival," he said after listening to performances from Buddo School and Mbale Secondary School from Uganda. He was moved by the St Kizito Litein School for the Deaf who performed a choral verse Our Pride in praise of the Central Bank in the sign language through an interpreter.