Japan roots for higher education breakthrough and Innovation in Africa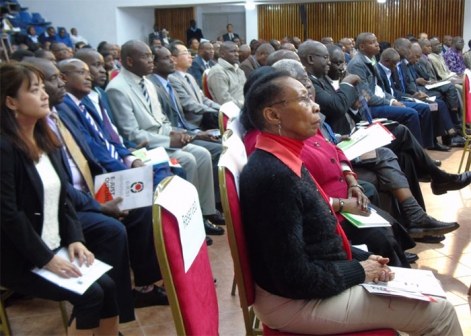 NAIROBI, KENYA: Japan will offer crucial support to Africa's development efforts with the aim of enabling the African continent to nurture cutting-edge science and technology innovations, Japanese and Kenyan officials have said.
Addressing participants at a symposium on Higher Education in Nairobi recently ahead of the Tokyo International Conference on African Development (TICAD VI), Japanese ambassador to Kenya, Mr. Toshitsugu Uesawa, said TICAD VI summit to be held late this month in the Kenyan capital "will be a spring board" for Africa's development agenda.
"Our investment is not for the short-term profit," the Japanese diplomat told the delegates, among them academics, business executives and government representatives.
The ambassador stressed that the investment of Japan in Africa was geared towards improving the lives of African people.
The Japanese ambassador praised the cordial relations between Kenya and Japan, which have existed since the East African nation attained independence in 1963.
"In fact, Kenya is the biggest beneficiary of Japanese assistance among all sub-Saharan African countries," he said.
Dr. Takao Toda, Director General of Human Development Department at the Japan International Cooperation Agency (JICA) shared the vision for one of JICA projects as the "vision for Africa to become the centre of excellence in science, technology and innovation in the near future."
He reiterated the importance of sharing such a vision among the many stakeholders in higher education sector as well as the importance of "Learning continuity" from the Early Child Development toward Higher Education and "Mutual Learning on a Global Scale" for tackling the both global and local problems.
"About 14 percent of primary school teachers of Science and Mathematics across Africa have acquired training skills through JICA. More than 24 African countries, Toda said, have also benefitted from Japanese school management systems, a key miracle in Japanese economic growth of 1960s and 70s.
Toda said the African Business Education Initiative for Youth (or ABE Initiative), has provided 1,000 young Africans with opportunities to study for masters' degrees at top universities and do internships at leading Japanese companies.
Prof. Colleta Suda, Kenya's Principal Secretary in the Ministry of Education, Science and Technology said Japan was an important partner in "promoting science, technology and innovations (STIs) in order to respond to the needs of the industry."
Collaborations – industry, government, academia linkages
"Higher education institutions alone cannot develop human resource capacity without the involvement of industry and government," she said, adding that there was need to promote STIs around the region through the full utilization of the local knowledge, wisdom and resources in Africa.
"In order to do this, there must be concerted efforts towards strengthening research and human resource capacity in universities," Suda said.
Speaking at the forum, Prof. Mabel Imbuga, Vice Chancellor, Jomo Kenyatta University of Agriculture and Technology (JKUAT), said her university has nurtured a close history with the people of Japan since 1981 when the institution was established through funding from the Japanese government.
"The technical cooperation that continued for over two decades until 2000 has been instrumental in shaping a clearly unique university," she said.
Since then, JKUAT has witnessed remarkable expansion that has seen enrolment swell to 42,000 students pursuing a variety of over 400 academic programmes, and graduating over 5,000 candidates annually.
Speakers at the forum said Japan could offer support to Africa based on based on accumulated experiences and lessons learnt from the benefits of Industry-Government-Academia linkages, coupled with its research outputs and technology of Japanese higher education institutions as well as "Monozukuri concept," a philosophy that embodies the spirit of making excellent products through continuous improvement of systems.
The TICAD VI pre-event provided an opportunity for key stakeholders from Africa and Japan to collectively discuss from a global perspective human resources development in higher education sector, and key ingredients required for strengthening Industry-Government-Academia linkages, to help Africa nurture cutting-edge science and technology innovations.
Prof. Motoki Takahashi of Kyoto University urged African institutions to embrace 'self-criticism' in order to push their achievements even further.
"We should be critical," he said, adding that "critical thinking" would enable African countries spur growth in innovations, therefore empowering millions of lives across the continent.
He urged both the government and private sector institutions to forge networks with universities in order to spur growth in innovations across the continent.
The forum was organized as a run-up to the main TICAD VI conference that will be held in Nairobi on 27-28 August 2016, the first time the conference is being held outside Japan.
Many African countries have developed policies that aim to further accelerate industrialization through promotion of science and technology. However, over time, there has been slow progress in materializing these policies due to lack of human resources and budgets. In the field of Science, Technology and Innovation, among others, higher education institutions have an important role to localize the world's leading research and technology by linking the local and global societies as a "knowledge bridge".