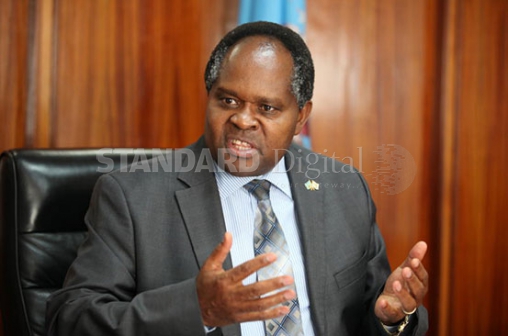 NAIROBI: The University of Nairobi has expelled 33 students including union leader contender Mike Jacobs over violence and destruction of property that occurred at the institution three weeks ago.
The premier university in the country was closed indefinitely after the students went on strike early this month, protesting results of elections of their Students Organization of Nairobi University (Sonu) leaders, where Babu Owino emerged the winner.
Speaking at a press briefing Friday, Vice Chancellor Peter Mbithi said the university disciplinary meted the harsh verdict on Jacobs and others after it was confirmed they bore the greatest responsibility to the violence and destruction that occurred.
"The various college disciplinary committees also decided to suspend 25 students, 143 will receive warning letters while 17 will be pardoned," he said and added that the affected students have a right to appeal the decision.
Prof Mbithi who was accompanied at the press briefing by top officials of the university including Prof Henry Mutoro the Deputy Vice-Chancellor (Academic Affairs) among others, also announced that the institution will be reopened on May 3, 2016.
He added that the university has repaired the Sonu offices and the hostels the students burnt down as they took to the streets in protest, and warned that they will deal firmly with any students who attempt to destroy public property next time.
"We have made improvements in the halls of residents and the Sonu offices. The university is working with government Security agencies to improve security both within the institution and the surrounding environment," said the Vice Chancellor.
Concerning the contested elections, he said the independent Elections Panel that was formed two weeks ago has received 17 petitions arising from the 2016 elections.
"The panel has heard and finalized four petitions and is currently writing rulings on 12 other petitions," said Mbithi.
A Senate committee was formed following concerns that there were gaps in the Sonu constitution which controversial student leader Babu Owino capitalized on to run for office the fourth time.
He added; "The committee that was appointed to audit the activities of Sonu and review its electoral processes with a view to making it more accountable has completed its findings. A complete report will be tabled at the next senate meeting."