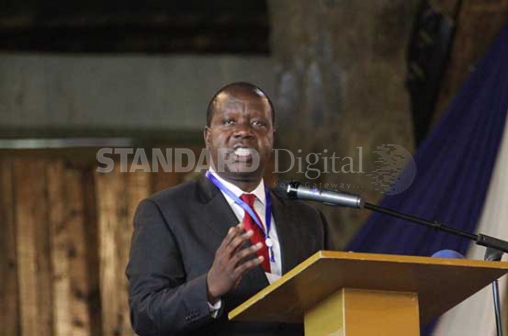 Head teachers may not have the prestige of directly handling funds for buying text books for their schools.
Education Cabinet Secretary Fred Matiang'i yesterday said channelling funds to schools through the Free Primary Education (FPE) programme 'has not yielded the expected results'.
Dr Mating'i said the textbook ration of 1:1 is far from being achieved despite the Government spending over Sh9 billion in the last two years.
"It is evident that the method is ineffective or else we would not be talking of text book shortage in schools," said Mating'i.
Instead, the CS said talks will be initiated with the association of head teachers in order to strike a deal on a new method.
Read More
"We want to be buying the books ourselves then we distribute them to schools; at least we see how far the method would go," he said.
This is expected to cut the costs by 50 per cent, putting into consideration that a new curriculum is being drafted that will make all content available on a digital platform.
The CS was speaking during the release of more than eight million books that will be sent to all schools.
The books are under the Tusome Literacy and Primary Education Development Project (Priede) that deals with languages and mathematics subjects.
The project is being sponsored by the United States Agency for International Development (Usaid) at a cost of Sh5.3 billion and Global Partnership Education (GPE) at Sh8 billion.
About 2.7 million books for mathematics and 5.4 million for languages will be distributed together with teacher guidebooks.
"We expect that these books will be at the designated centres by the beginning of next term, which starts in May," assured the CS.
Some 320,000 books will also be distributed to private schools, and their teachers trained too.
Matiang'i also reiterated that he will not be stepping in to solve the current university crises.
He said it is not in his mandate to give pronouncements and that varsities should handle their own affairs.
"If we do so, it will be claimed that we are breaching the law," he said.