Limited resources should not compromise academic excellence, says First Lady
EDUCATION
By PSCU | February 6th 2016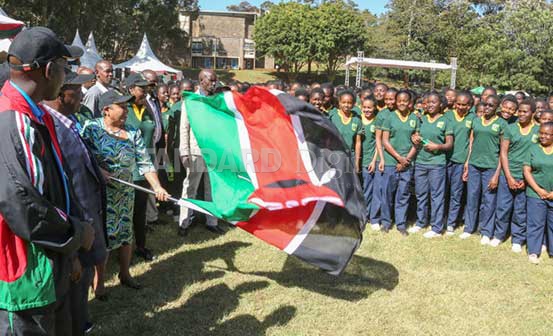 First Lady Margaret Kenyatta has asked stakeholders in education to ensure that challenges of limited resources do not compromise academic excellence in our schools.
She however recognized that national schools like Alliance Girls are facing heavy challenges and pressure occasioned by increased enrolment which puts significant stress to the existing facilities and infrastructure.
The First Lady spoke when she flagged off the Great Alliance Girls (High School) Walk today aimed at raising funds for the expansion of the school's chapel, first constructed in 1959 with a capacity for 800 students and teachers.
The enrolment of the 68-year old school has grown rapidly over the last five years and now stands at over 1500 students, necessitating the expansion of the institution's facilities.
The First Lady said the Alliance Girls Walk initiative appeals to the Kenyans culture of giving and philanthropy " which I have experienced for my flagship campaign Beyond Zero and the upcoming First Lady's Half Marathon event, scheduled to take place on March 6 ".
The First Lady praised the Alliance Girls for continually living to its fame as a centre of excellence that graduates well- rounded students who later occupy leadership positions not only in Kenya but Africa and beyond.
"Thousands of girls have graduated from Alliance, and are today making great contributions to the country's national development. Many of these women are identified as 'Firsts'- breaking unseen barriers- serving in cabinet positions, permanent secretaries and heads of civil service", she said
The First Lady is the patron of the school that was founded by the Scottish missionaries in 1948, as the premier African Girls High School in Kenya for the African girl child.