Staffing setbacks jolt universities amid rising demand for quality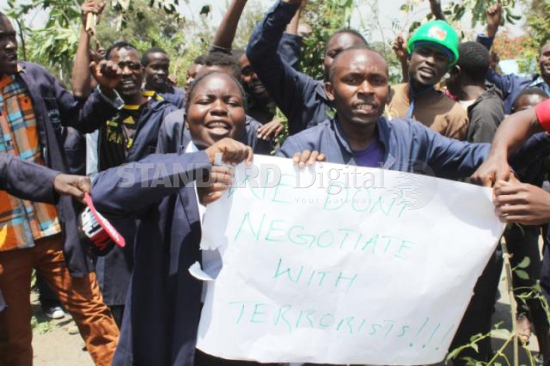 Institutions of higher learning offering engineering courses are grappling with huge challenges in staffing, regulation and quality of training, The Standard on Saturday can reveal today.
The past month has seen at least two universities forced to send home hundreds of students undertaking engineering courses over what the Engineers Board of Kenya (EBK) says is failure to have the courses accredited.
The Technical University of Kenya (TU-K), at the end of August 2015, announced it was suspending teaching of Bachelor of Engineering programmes that require recognition by EBK, putting in limbo the fate of more than 200 first year students, both government and self sponsored, supposed to report to the institution. Continuing students were also affected as the programmes had to be put on hold. Weeks later, Egerton University followed suit when it asked students pursuing engineering courses to vacate until further notice.
TU-K says the process of acquiring accreditation for its engineering courses has been ongoing, with the university having so far complied with most requirements.
EBK is on record as having warned public universities not to enroll students for engineering courses before they get approval. In a circular dated April 15,2015, the board advised that those to be appointed as adjunct professors should at least be associate professors, be registered engineers in the discipline to which one is proposed to be a thematic leader, and must be of good standing with EBK and Institution of Engineers of Kenya. Institutions are required to ensure that the dean of faculty of engineering or the person heading a school of engineering is a professional engineer, as well as ensure that the courses relating to professional practice are taught by professional engineers.
Roll of engineers
But this requirement has raised several questions including whether EBK has on its roll of registered engineers enough associate professors to be contracted by universities. (See EBK's responses in separate story)
Part of the challenge, according to TU-K Director of Communications Ken Ramani is that majority of registered engineers (more than 90 per cent) on the EBK roll do not have post graduate qualifications to qualify them to teach at university level.
Kenya has about 200 engineering lecturers with PhDs, way below the number that can adequately be shared out among the thousands of students taking engineering courses in various universities. There are currently about 15 universities offering engineering courses in the country, with an annual enrollment rate of about 3,000 engineering students.
"Local universities have found themselves between a rock and a hard place. On one hand the Commission for University Education demands that for one to be employed as a lecturer they should hold a PhD in a relevant discipline. EBK demands that the lecturer heading a faculty of engineering must be a registered engineer, majority of whom don't have this qualification," says Ramani.
It has been argued that it would be hard to find a registered engineer with the required academic credentials willing to head a faculty of engineering as a dean or head of department largely due to poor terms of service.
Official websites of several universities show lecturers teaching engineering courses with details of their academic credentials. It was not clear if the websites had been updated or not. Jomo Kenyatta University of Agriculture and Technology, for instance, has 62 professors and PhD holders teaching engineering courses.
The University of Nairobi has 57 on its website. Others like Dedan Kimathi University of Technology, Technical University of Mombasa, Multi Media and Masinde Muliro universities have between two and 10 professors and PhD holders while the Technical University of Kenya has 26 on its site.
Accreditation by EBK
Questions have been raised on why some institutions have had their engineering courses approved by the Commission for University Education (CUE) and accredited by EBK yet their capacity in terms of staffing and facilities is wanting, amid allegations that some universities ''collected CV's of potential lecturers from other institutions and presented them for accreditation''. They are also said to have used procurement plans to prove they had workshops and laboratories required for training in various engineering courses.
CUE Secretary Prof David Some, however, says any institution caught engaging in such acts will not have their programmes accredited.
The commission,he says, conducts peer reviews for each programme. But does the country need to have a double accreditation system where institutions must get the green light from both the commission and professional bodies, considering the time taken to accredit a single curriculum?
"Dual accreditation is desirable but they should be supportive of each other,"says Prof Some.
On how often CUE inspects universities to ensure they have relevant staff and training facilities, Some says Universities Standards and Guidelines 2014 are used during inspections. Institutional inspection is done every five years, while that of programs is undertaken in every cycle, for example in four years for a four year programe. "These are the minimum because universities are expected to have above minimum. How high above minimum is a measure of ranking universities," says Some.
The engineering profession is broadly divided into Engineering and Engineering Technology. Engineering focuses primarily on the conceptual and theoretical aspects of science and engineering aimed at preparing graduates for the practice of research, development and conceptual design functions.
It is aimed at preparing graduates for the practice of engineering closest to product improvement, manufacturing and engineering operational functions. In general, the engineering team has several cadres;engineering scientists, engineers, engineering technologists, engineering technicians and craft persons/artisans. Of these, only one cadre-engineers is recognised and regulated by EBK.
The Engineers body does not recognise those qualified in other branches of engineering outside its purview, like environmental, mechatronics, robotics, software, computer, mining and petroleum engineers.
It is estimated that the country currently has registered 1,868 engineers to practice locally and thee's no data of who are holders of PhDs among them.