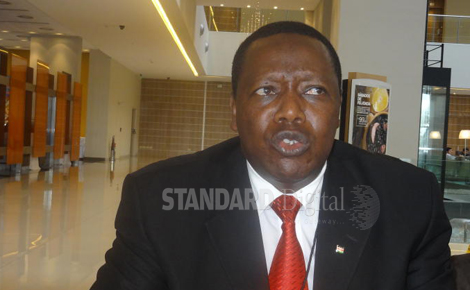 Mr Njoroge during then interview
NAIROBI, KENYA: He is popular for instilling discipline in students perceived as rogue in various schools across the country.
Director of the Nairobi-based Centre for Mathematics, Science and Technology Education in Africa (Cemastea), a capacity building institution that caters for 26 African countries, Stephen Njoroge, is a teacher with a difference.
It was Njoroge, during his six-year stint as principal of Moi Forces Academy in Nairobi, who popularised the Leap Hubs initiative that exposes talented students to entrepreneurial life skills without undue emphasis on academic scores.
Today, the school he headed for seven years boasts of well-structured commercial enterprises run entirely by students who among themselves appoint chief executive officers and managers in charge of human resource, marketing, finance and other facets.
The quail club, for instance, comprises 13 students who take care of 250 birds.
Read More
STRAY DOGS
The dog club retrieves puppies from stray dogs, treats them of diseases and feeds them until they are big and attractive enough to sell.
Effuses Mr Njoroge: "I feel particularly proud to see my former students such as 22-year-old Eugene Githu who after scoring a B+ at Moi Forces Academy in 2011 and failing to get direct university entrance for the course of his dreams, registered a company and started selling tea leaves to the school.
Githu today employs two people and pays his university education as a parallel student.
A strong believer in character and creativity initiative that sets the pace for Leap Hubs, Njoroge who is the executive secretary of the Association for Strengthening Mathematics and Science Education in Africa made creativity his byword during a teaching career that spans two decades.
"Character and creativity defined how I handled the schools I headed long before the initiative was anchored by the Global Peace Foundation (GPF) alongside Leap Hubs that exposes students to entrepreneurship and leadership as they pursue their academic studies. Moi Forces Academy where I was the head teacher was among the nine schools approached for pilot Leap Hubs projects. We ran away with it, emerging the undisputed leaders in practical terms.
"Earlier the character and creativity approach to challenges stood me in good stead during the two years that I was principal of Baragoi Secondary School between 1995 and 1996. Then, as now, Baragoi was a dreaded bandit infested jungle shunned and spurned by security forces.
"Character-wise, I did not waver on bravery and strictness. I had no compromise on discipline. It worked where parents appreciated the usefulness of the school, thanks to the benefits it accrued, among them a food for work program for them during drought," he said.
Njoroge says his style became so popular with students and their parents that the school went on strike when he was transferred to the better endowed Maralal Secondary School where he served with the same verve.
Mr Njoroge's credentials shone bright recently when he was among the two Kenyan educationists nominated by GPF to give a presentation at the fifth Global Peace Convention in Asuncion Paraguay on Character and Creativity as the baseline for Leap Hubs initiative of which Kenya is the world leader.
Delegates from 40 countries listened to him aghast as he recounted how he used the initiatives to navigate a hostile terrain that two years ago captured world headlines with the massacre of 42 police officers, mowed down by bandits.
Asked by a delegate if he was accorded extra security in Baragoi, he replied: "I resorted to inter and intra-relationships."