Lecturers, teachers brace for strike after pay hike cash misses from Budget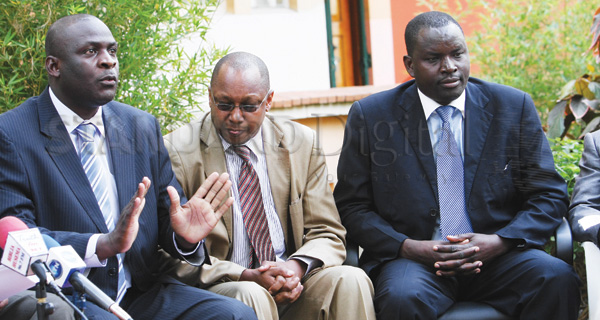 Kuppet chair Omboko Milemba (left) when he issued a seven-day strike notice on Wednesday over teachers' allowances. [PHOTO: TABITHA OTWORI/STANDARD]
By Frankline Sunday
Kenya: The Government's failure to allocate funds for teachers' perks in the 2013/2014 Budget sets stage for confrontation.
Sh33 billion meant for facilitating recruitment and allowances for teachers is missing in allocations to Ministry of Education and Teachers Service Commission (TSC).
This opens doors for industrial action from teachers, lecturers and university support staff.
Last year, learning was halted for more than three weeks as Kenya National Union of Teachers (Knut) engaged Government in a standoff over a long-standing salary harmonisation spat.
After intense lobbying from both sides, Ministry of Finance and Knut signed an agreement to pay teachers Sh13.5 billion in salary harmonisation.
TSC and Kenya Union of Post-Primary Education Teachers (Kuppet) have in the past proposed that the Government sets aside funds to provide for recruitment of teachers.
Kuppet issued a strike notice last week if Parliament does not allocate Sh41 billion more to the education sector for employing 40,000 teachers.
The union further wanted the Government to provide funding for leave and commuter allowances as agreed in a past collective bargaining agreement.
However, the proposals are missing from the estimates tabled for discussion on Tuesday setting the stage for a clash between teachers and Government.
According to the report by Budget and Appropriations Committee, TSC will miss up to Sh16.5 billion. Sh7.6 billion was meant for recruitment of 2,000 teachers while Sh4.8 billion for recruitment of early childhood development teachers.
Wait longer
A further Sh3.5 billion meant for facilitating promotions among teachers is also missing in the allocations.
The upgrading of provincial secondary schools to national status to ease admission headache will also have to wait a little longer.
Sh5.4 billion meant for upgrading of the institutions has not been allocated.
Lecturers have also been caught by surprise as the Government has reneged on a promise to increase salaries.
Up to Sh1.8 billion meant for lecturers and non-teaching staff pay hike is missing from Government's allocations.
This prepares the ground for a showdown between the Government and public education providers with students paying the ultimate price.