Government should help improve safety of mines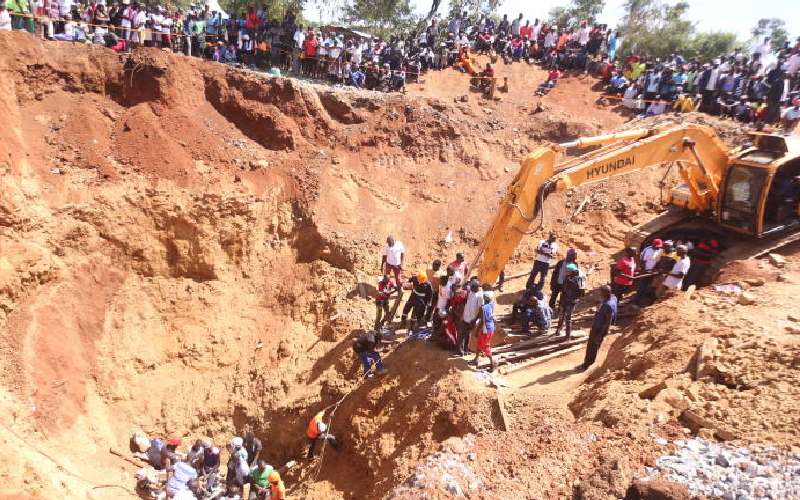 Three artisanal miners were pulled out alive yesterday morning from a collapsed gold mine in Bondo, Siaya County. This brings the number of people who have been snatched from the jaws of death to six. One person was found dead while another is still trapped in the mine.
Finding people, who have been buried in the bowels of the earth for six days, alive is nothing short of a miracle. Locals who have worked day and night to save their villagemates deserve a pat on the back.
But miracles do not happen every other day.
Many people have lost their lives in mine collapses in the country. In May this year, five people died when a gold mine collapsed in Bushiangala village in Kakamega. Another five artisanal miners perished last year in different mines in the county.
Only last Sunday, a student was killed and four others injured in a sand quarry in Homa Bay County.
Countless lives have been lost in this manner in many parts of the country over the years. Sadly, it seems few if any lessons have been learnt from these tragedies as people continue to meet their deaths in the mines.
The main problem is that the miners themselves do not take enough precaution. And although most such accidents happen during rainy seasons, they still insist on going on with their business as usual.
The government, and especially county governments, should make it their business to improve the safety of mines, including stone and sand quarries. Some miners pay levies to county governments and it is, therefore, the responsibility of the governments to ensure that their milch cows do not turn into death-traps.
The counties should take it upon themselves to educate these workers on how to mine safely, including by helping them to acquire safety gear and in reinforcing the mines. The counties should also be always ready to respond to any emergency situations in the mines. If that is done, it will make the relationship between the governments and the miners symbiotic, not parasitic.