Let's nurture Kenya's junior sporting talent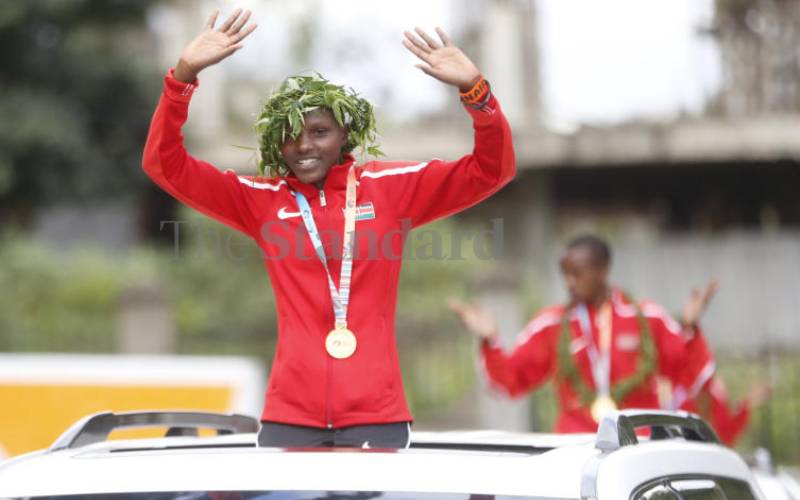 Kenya finished top of the world with eight gold, one silver and seven bronze medals in the World Under 20 Championships that ended in Kasarani Stadium last Sunday.
The closest country to Kenya's 16 medal haul was Finland with four gold. One might argue that maybe if other top countries like United States and Great Britain had taken part, the medal table might have been different.
However, the host nation dominated the competition, an event the organisers also received praised from the World Athletics in the way they successfully hosted the global showpiece.
What stood out in the championship though is how Kenya's junior athletes dominated their opponents in most events and there was even a rare gold medal in 10km walk race courtesy of Heristone Wanyonyi.
Kenya is known more as a middle distance to long distance nation, but not in events like walk race. It was therefore a breath of fresh air to see Wanyonyi bag race walk gold and Slylvia Chelangat winning bronze in 400m women, something we are not known to do well in.
The youngsters' performance should therefore be a wake-up call to all those concerned in handling track and field talent. The raw talent should be nurtured ahead of upcoming global events.
The 2024 Olympics Games in Paris are only three years away and these youngsters should be among the ones that make the team to fly the country's flag at the French capital.
Those concerned like Athletics Kenya (AK) for example have always promised that the juniors who win at every junior event are the future of athletics in Kenya, but have never cared to follow up and in the end the talent often goes to waste at such a young age.
Youngsters like Wanyonyi for example should now be given proper training to be among those who will compete in the walk race at the Olympics.
A good example was the Under-20 team that competed in Beijing, China in 2006 and AK had promised that was the team to watch at the 2012 Olympics, but it was only David Rudisha who fulfilled his potential there.
If AK, therefore, wants to see the Under-20 youngsters progressing in their careers to the Olympics and the Senior World Athletics Championships, they should move with speed and monitor closely the newly unveiled talents at Kasarani.
Enough resources, coaching and mentorship should be accorded to the youngsters who showed promise on the global stage right here in our country and before our own eyes.