Keep aspirants tainted with graft from polls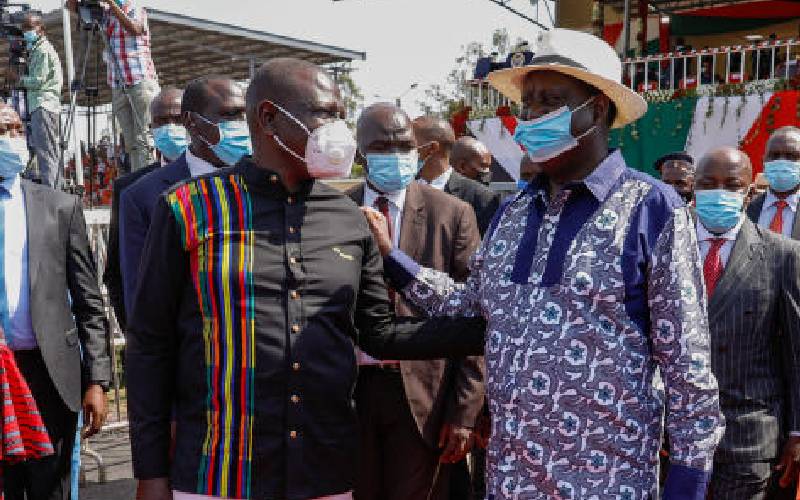 ODM leader Raila Odinga and Deputy President William Ruto have rekindled their old wars. At the weekend, Raila vowed that he would push for the jailing of all corruption suspects after next year. That angered the deputy president, who responded by accusing the former prime minister of dabbling in corruption.
Allegations and counter-allegations of malfeasance by the two former political allies-turned-foes are not new. At one point, Raila branded Ruto the 'high priest of corruption' while Ruto labelled him the 'lord of poverty'.
Accusations of corruption are serious, yet it is difficult to take the verbal brickbats between the two with seriousness. Being eminent politicians, they are well versed with laws of the land and know where to report if they have evidence of graft against each other or against any other person.
Most likely, they are using the corruption allegations to endear themselves to the voters. Sadly, such mudslinging will only intensify as we inch closer to 2022.
That said, the graft claims by the two leaders should by now have raised the eyebrows of the investigative agencies. They should seek to find out whether there is substance in the claims.
Notably, the dragon of corruption has hobbled our progress since independence and any claims against anyone, and especially those who aspire to ascend to the pinnacle of Kenya's leadership, should be treated with a lot of seriousness.
Indeed, the agencies that vet those aspiring for elective office, from ward representatives to the presidency, should prepare adequately and do a better job ahead of 2022. They should scrutinise aspirants thoroughly and separate the the chaff from the grain. That could save Kenyans the agony of having graft-tainted leaders who value their stomachs more than the 50 million citizens. It could save Kenyans the Sh2 billion the president said is looted every day.