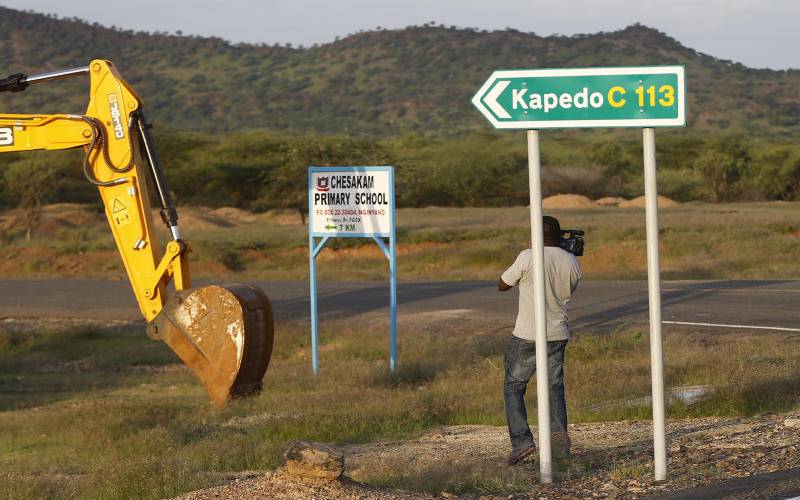 Decades of conflict have turned Kapedo at the border of Baringo and Turkana counties to a no-go zone. The area is so insecure that even locals fear venturing out to places far from their homes.
The killers are so daring and even strike in broad daylight.
But it is not only the residents' lives that are threatened. Over the years, numerous police officers have been killed in the volatile area.
The latest victim of banditry attack in Kapedo is General Service Unit Operations Officer Emadau Tebakol who was gunned down on Sunday while on a mission to assess the situation in Kapedo and also locate a site where a security camp could be set up. Before he was killed, he had addressed a public baraza and urged locals to unite so as to defeat the enemy.
Read More
In November 2014, over 20 police officers were killed in an ambush by the bandits in the same area.
The criminals also torched the officers' truck. In November 2017, three police officers were killed at Kasarani in Kapedo in an ambush.
In addition, the bandits staged an attack on Ameyan village in May 2017 and killed eight civilians.
As a result, Ameyan residents fled their homes and have never gone back. In May 2018, a driver and three students were shot dead while on their way to Kapedo from Marigat.
Clearly, the bandits have rained terror on Kapedo for too long. Incredibly, not even a single bandit has ever been arrested. That, obviously, is a major score and morale booster for the outlaws.
As a result, they most likely believe they are more powerful than the government. It is time to cut short their delusion. The killing of Tebakol should mark the end of the killer gangs of Kapedo.
The government should send well-armed officers to comb the length and breadth of Kapedo and beyond until the last bandit is smoked out of their hideouts.
As they do so, the officers must be careful not to be caught off guard by the bandits as has happened before.