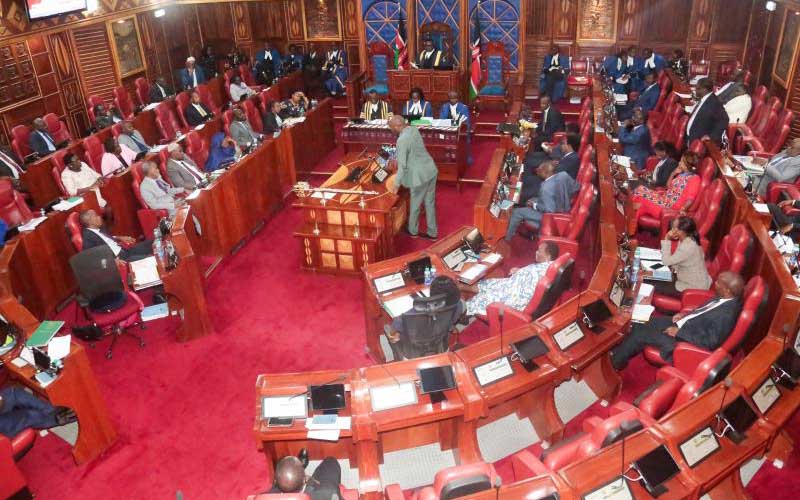 Three-and-half months into a new financial year, counties are yet to get their revenue allocation from the central government.
They are yet to get the funds not because government coffers have run dry, but because the institution bestowed the onerous responsibility of sharing out the national cake cannot agree on how to divide it among the 47 counties.
Read More
Over nine Senate sessions, debate on the division of revenue has generated nothing but heat. A committee appointed to find consensus to the divisive issue has also come back empty-handed. The Senate has failed terribly in one of its most important mandates.
Senators have clearly held the country to ransom. They have caused pain and widespread suffering with their indecisiveness and procrastination. Some counties have not paid workers for months forcing some them, especially health workers who are currently fighting a deadly pandemic, to down tools.
Some hospitals have had to make do without crucial medicines. Pushed to the edge of the precipice, governors yesterday said they have no option but to shut down crucial services from tomorrow. Among the services that will be affected is healthcare provision.
There will be no new inpatient admissions in county hospitals and the facilities will only provide minimal outpatient services. We know who will suffer the most if that happens. It is not the honourable senators.
Their health is well catered for. They go to the best hospitals at home and abroad at taxpayers' expense. They wouldn't know the pain of finding the doors of a county hospital without doctors or nurses. If they did, they would have long sat back and assessed the ramifications of their actions.
It would be a Pyrrhic victory if senators come out with a good deal for their counties after a long battle, after some of those they claim to be fighting for have succumbed to disease or hunger.
It is unfortunate that the men and women supposed to be the strongest defenders of devolution are on the verge of becoming its biggest enemy. The senators' failure to find a middle ground, which has consequently left counties hanging in the balance, is a massive blow to devolution. A dearth of leadership at the Senate has been blamed for the stalemate. But we also know egocentric tussles involving different political groupings have elongated the crisis.
The Executive, which is said to favour the 'one-man-one shilling', too, has been accused of adding fuel to the fire. But whatever the case, there is a clear lack of political leadership, which is key to ending this kind of stalemate.
While the buck rests with the senators on this matter, the Executive and party leaders have the power to make things move faster.
We all saw how Jubilee Party rallied the Senate and the National Assembly a few months ago to kick out perceived rebels from House leadership positions. A similar manoeuvre was later pulled off by ODM.
It is not impossible for these same leaders to mobilise similarly and unlock the sorely needed county funds.
President Uhuru Kenyatta, Deputy President William Ruto, ODM leader Raila Odinga, former Vice President Kalonzo Musyoka and ANC leader Musalia Mudavadi cannot escape blame for the long-running revenue standoff at the Senate.
Their lack of guidance or effort to find consensus on the sharing formula will be taken as ambivalence to Kenyans' expectations on devolution. Notably, senators are supposed to meet next Tuesday to continue with their unending debate on county funds. If nothing will have happened by then, Kenyans will have suffered as a result of the shutdown for four straight days.
If they fail to agree, the suffering will continue. This is unacceptable for a country seeking equitable distribution of the national cake. And even as we seek a way out of the current quagmire, we must do whatever it takes to avoid a similar stalemate in future. If we would need to tighten the nuts and bolts of our Constitution to ensure senators never again hold the country to ransom, so be it.
We must never again allow those whom we have elected to take care of our interests to instead play Russian Roulette with our lives. Counties need money to continue offering crucial services.