Our women should be protected by all, not clobbered like snakes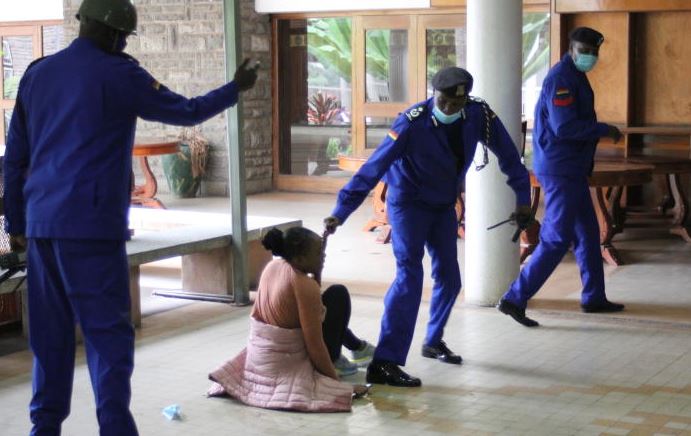 The beating up of Mlango Kubwa Member of County Assembly (MCA) Patricia Mutheu
(pictured)
by a contingent of police officers was a terrible shame – a shame on Kenya, a shame on the police service, and sadly, a shame on men.
Ever since the heartless murder of George Floyd, an African American man, by White police officers in Minnesota, US, several countries have been rocked by public demonstrations against police brutality.
Coming against this backdrop, one would have imagined that our police officers would have exercised the greatest level of restraint even in the face of the highest act of provocation.
Unfortunately, they did not, also, there was also no visible act of provocation by the defenceless MCA who was peacefully seated on the floor. In consequence, our officers once again shone negative light upon our nation and put Kenya among a growing league of nations with poor records of blatant human rights abuses.
At another level, the brutal force used against Mutheu also brought shame upon the police service itself. Over the years, there have been numerous calls for action against obvious police lawlessness in the course of their duty of maintaining law and order.
Over a month ago, there was a peaceful march in Mathare Valley to protest the increasing cases of extrajudicial killings by the men in uniform.
As at the time, the Independent Policing Oversight Authority (IPOA) reported that at least 15 people had been killed by the police, and 31 people injured since the curfew was imposed due to Covid-19. With this kind of statistics, and the subsequent outcry, a normal human being would be expected to be circumspect in their actions, if only to preserve their dignity.
Unfortunately, the police officers who assaulted Mutheu appeared not to be possessed of such ambition. Thus, with reckless abandon, they descended on the poor woman with clubs and sticks.
The third level of shame was brought upon us, men. Whereas watching two men fight, or one beat the other, can at times even be entertaining, there is nothing as ugly as seeing a man beat up a woman.
It matters not what levels of provocation one has suffered from the woman – even if it be your wife or sister.
Society seems to judge a man harshly when he arrogates himself the duty of punishing a woman with kicks and blows. It smacks of mere chauvinism and looks ugly. It was therefore terribly embarrassing to watch that footage of several men beating up a tiny young woman with the brutal force of snake killers.
One would have expected that when the male officers came upon the cornered woman, they would have treated her with some respect and dignity – in spite of her possible corporate irresponsibility together with her fellow MCAs.
Apart from police aggression, the rising cases of gender-based violence, in which women have suffered serious injuries from men in their homes, is equally alarming. This is totally against God's design for the family and cannot be excused.
In God's divine design, He created women to be protected by men. That is why an older sister will happily feel more secure in the company of her younger brother when passing through the valley of the shadow of death.
Men on the other hand were bestowed the natural instinct of protecting their women – whether wives, mothers, sisters, friends or strangers. That is why we readily take pity upon a suffering woman than we would a man in similar circumstance.
Therefore, even though women have relentlessly pushed for equality with men – and have almost successfully done so – it still behooves men to remain steadfast in our role and responsibility of defending and protecting our women.
Under no circumstance should we turn around with brutality against women. When we do so, we not only disgrace ourselves, but we prove to be no better than a security officer who brutally attacks the person they have been assigned to guard.
On police brutality, it was heartening to hear strong voices from key government leaders condemn the attack on Mutheu. None other than the Interior Cabinet Secretary, Fred Matiangi, spoke firmly against police brutality. Considering that the service falls directly under his purview, we can only hope that we will soon see significant change.
Unfortunately, one gets the impression that this has now become a mere chorus in the ears of some police officers who are not about to stop being brutal. Such are not worthy of any pity and should face an equally harsh retribution – ili iwe funzo kwa wengine.