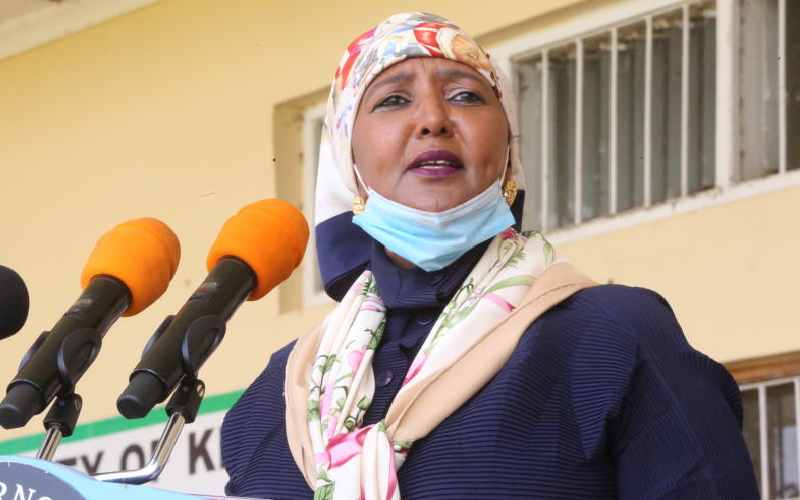 Sports Cabinet Secretary Amina Mohamed's (
pictured
) push for tougher anti-doping laws is most welcome. Doping has, without doubt, tainted Kenya's image as the world's athletics superpower. Even with our unmatched talent, spectators always cast doubts whenever our athletes win; they question whether our spectacular victories are genuine or drug-fueled. Which is a shame. It's the high time we acted decisively to save upcoming athletes from unscrupulous runners, managers, coaches and doctors who lure them to use banned performance enhancing substances.
SEE ALSO: Don't feign ignorance of anti-doping rules
We must institute harsh penalties for dopers to retain our athletics' turf. As a country, we should ensure our athletes train and compete in a clean environment devoid of doping scandals. It's sad that doping cases are on a steady rise. At least 70 Kenyan athletes have tested positive for banned substances so far. This number could be higher as not all athletes who have tested positive have been made public. For the last six months, 10 Kenyan athletes have been suspended for various anti-doping offences. Among them is Olympic 3000m steeplechase champion Ruth Jebet, the Kenyan-turned-Bahraini, who shocked the world after failing the dope test. That was the first gold medal for the middle-east nation in 3000m steeplechase. Jebet made it look like Kenya had 'exported' the doping menace to the East. Although the fight against the vice has been on for long, it has elicited disjointed responses. Few athletes from Kenya Defence Forces (KDF) test positive for fear of the harsh penalties the institution hands victims. Only three or four KDF athletes, among them Olympic marathon champion Jemima Sumgong, have been caught cheating. On the contrary, National Police Service athletes often go back to their workplaces as they serve doping bans. This does little to discourage the vice.
SEE ALSO: How the tide turned against Wilson Kipsang
Truth is, only steep punishment can deter doping. Those crafting the anti-doping laws should borrow a leaf from the anti-graft legislation. They should come up with laws that can make dopers and their accomplices be sent to jail for long periods like Sirisia MP John Waluke and Grace Wakhungu have for defrauding the National Cereals and Produce Board. We propose that those who dope be banned for life from taking part in sports competitions and be handed long prison sentences. That will send a strong message that dopers are among Kenya's biggest enemies. That will send a message that Kenya does not tolerate this vile habit.