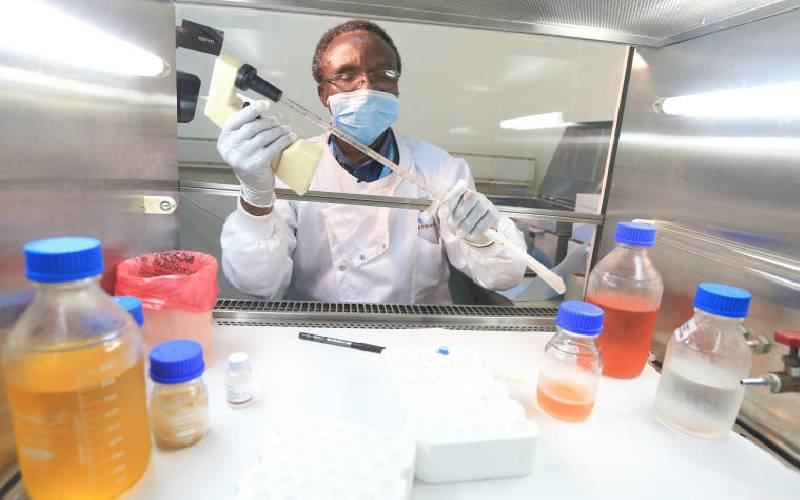 A cure for coronavirus is yet to be found, but that is not to say scientists are not burning the midnight oil to find one. Developing a vaccine for novel viruses involves a long process of clinical tests. As such, it could take a year and a half before an effective vaccine is found, as scientists in the Western world have indicated.
That, however, is a tentative period. Given the zeal with which scientists are working to ensure that the coronavirus curve is flattened, a cure could be found sooner than anticipated. From the outset, there was hope the anti-malarial drug chloroquine could cure coronavirus, but the idea was discarded after clinical tests showed it was not effective.
In Madagascar, President Andry Rajoelina proclaimed to the world that Malagasy scientists had found a cure, code-named Covid-organic but the WHO is yet to vouch for its efficacy.
Kenyan researchers and scientists are also at the forefront trying to find a vaccine for Covid-19. Indeed, Kenyan scientists are world renowned for their research undertakings to find a vaccine for HIV. Besides, herbalists have submitted to the Kenya Medical Research Institute samples of herbal medicines they claim can cure Covid-19. The medicines should be tested for efficacy.
Read More
Africa has always looked to the West for medical solutions when it could be having several solutions at its doorstep. Our scientists must give their best, and they are as competent as any scientist in a European capital, in finding a vaccine or cure. The two French doctors who disparagingly referred to Africa as lacking the capacity to fight coronavirus, and even insulted Africans by proposing Covid-19 vaccine trials be conducted on them, should be proved wrong.