Scientists should test herbalists' alleged Covid-19 cures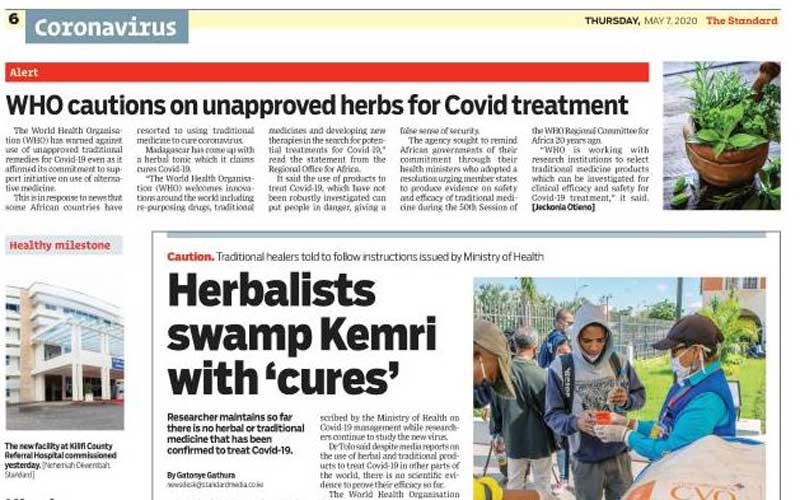 The Kenya Medical Research Institute (Kemri) has confessed that it has been approached by a number of local herbalists who claim to have found cures for Covid-19.
Some of the herbalists, according to Kemri, have even requested laboratory space at the institute to demonstrate the efficacy of their concoctions.
While such requests may sound preposterous to many people considering that no substantive cure for the disease has been found even by the world's best scientists, their claims should not be dismissed.
Medicinal herbs are as old as Africa. They were used by our forefathers before the White man brought conventional medicines. They are still used to treat some diseases when prescribed by seasoned herbalists — not quacks.
While we are aware that Kemri is overwhelmed by work as it has to test hundreds of coronavirus samples daily while also researching for a potential remedy, it should not dismiss the herbalists' claims off-hand. It should organise for the testing of the cures for, in this uncertain times, no one knows where a cure will come from.
Kemri has, however, done good to remind Kenyans that there is no medicine yet for this disease. As it tests, the herbal concoctions, it must therefore warn the herbalists to avoid the temptation of giving them to patients. They must not go the way of Madagascar which is already selling a herbal concoction — which has not been scientifically tested — it says cures Covid-19. The herbalists must be patient until Kemri gives a verdict. And that might take months, if not years.