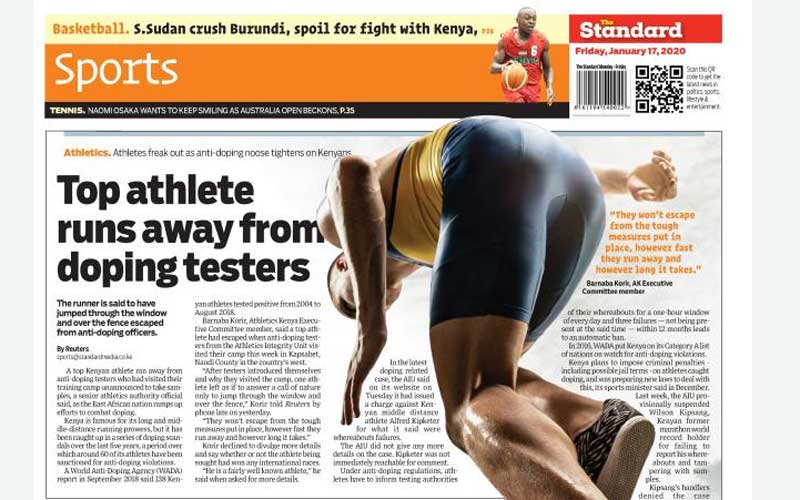 We are barely 20 days into 2020, and two top Kenyan athletes have been provisionally suspended for anti-doping violations. Former world marathon record holder Wilson Kipsang and 2014 world under-20 800m champion Alfred Kipketer have been suspended for missing dope tests. This is not good news for the nation – especially coming six months to the 2020 Tokyo Olympic Games.
It is unfortunate that an athlete like Kipsang, who stands out as the only one to have beaten marathon legend Eliud Kipchoge, failed to report his whereabouts and tampered with samples. Athletes are required to submit details of their location one hour every day, plus overnight accommodation and training information, in case they are needed for out-of-competition testing. The details are filed online on Anti-Doping Administration and Management System (ADAMS) managed by testing authorities.
Under the anti-doping regulations, athletes have to inform testing authorities of their whereabouts for one-hour window every day and three misses – not being present at the said time – within 12 months leads to an automatic ban. Despite training every year, athletes have been missing the tests. It is a worrying trend that foreign media keep comparing Kenya with Russia, where doping is reportedly state-sponsored.
They should learn from five-time world cross country champion John Ngugi, who was banned for missing a dope test in mid-1990s. A World Anti-Doping Agency report in September 2018 said 138 Kenyan athletes tested positive for doping between 2004 and August 2018.
Read More