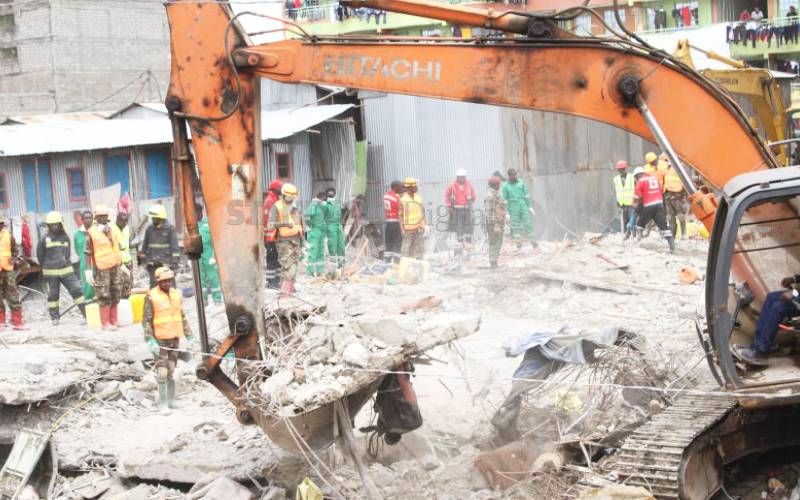 Two tragedies hit the country last Friday. First, a six-storey building in Tassia, Nairobi collapsed. So far, five people have been reported dead, many are injured and some are still stuck in the rubble. Second, Al Shabaab gunmen attacked a Mandera-bound bus and killed 11 non-Muslim passengers. Before that, more than 130 people were killed by floods and landslides across the country, 40 of them in West Pokot. Tragedies of such magnitude bring other countries to a standstill. In Kenya, however, such never seem to disturb many people, including government officials who should be at the forefront providing solutions.
SEE ALSO: No glitter for Pokot women gold
At Tassia, residents complained of delayed response by the government. Although the KDF personnel arrived at the scene quite fast, they lacked adequate equipment to for the rescue mission. With only sniffer dogs, a generator, drills and wire cutters, there was little they could do. Residents, who used all sorts of tools and bare hands to rescue those trapped in the debris, said they were forced to commandeer an excavator to help in the rescue. The poor response that was displayed in West Pokot has been replicated in the heart of the city. Government's response to disaster has been lackluster. Instead, leaders, including government officials, have been about town politicking mostly about the Building Bridges Initiative report. Senior State officials are yet to visit Tassia. Besides President Uhuru Kenyatta sending a message of condolence, one would have expected that by now senior officials of his government, led by the Housing Cabinet Secretary would have long toured the scene to assess the situation and reassure residents of their support. In short, Tassia residents have not received enough help from the government. People expect more from their leaders in times of distress. They expect the government to deploy adequate specialised personnel and equipment as soon as is practicable.
SEE ALSO: KDF probes aircraft crash in Somalia after 10 soldiers injured
They look up to the government to address the root cause of the problem by taking the right steps to, for example, ensure that no more buildings come tumbling down. But when all that leaders and public officials do in the face of such adversity is politic about BBI, Kenyans are left wondering whether their lives really matter. The government needs to show more concern for the suffering.