State should change tack to save Kenyans from harmful products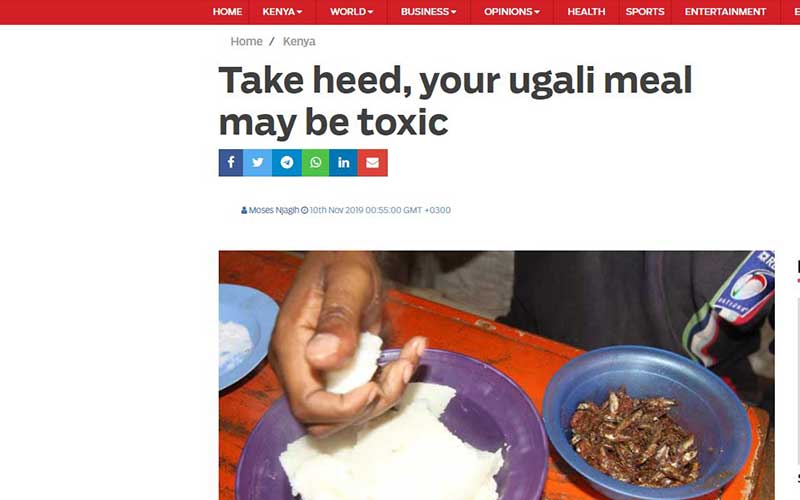 In the past one week, Kenya Bureau of Standards (Kebs) has made revelations that have left Kenyans quaking in their boots.
First, the agency charged with ensuring that goods on sale in the local market meet the required standards, banned the sale of seven peanut butter brands due to what it termed as high levels of aflatoxin.
The products are True Nuts, Fressy, Supa Meal, Nuteez, Sue's Naturals, Zesta and Nutty.
Then last Saturday, Kebs banned five popular products, this time maize flour, which it again warned contained high levels of aflatoxin. These were Dola, Kifaru, Starehe, Two Ten and Jembe.
Days before, the National Quality Control Laboratory of the Ministry of Health and University of Nairobi warned, after a study, that parents were having their children decorated with poison; that virtually all paints used in face-painting in Nairobi contained lead. They tested 59 paints collected in Nairobi and all of them were found to contain lead. There is a high likelihood that this is the case countrywide.
These are horror stories. Exposure to high levels of aflatoxin has been known to cause cancer. Lead poisoning, on the other hand, has profound health effects, including affecting development of the brain and nervous system.
That's why revelations and the pulling off of the said harmful products from shop shelves is commendable.
However, it shows the Government has been in deep slumber in so far as safeguarding the health of the public is concerned.
It is incomprehensible that products that are harmful to human health can find their way into the market and even homes on such a large scale. In fact, there should be an assessment of just how many people had consumed the alleged harmful products.
Aren't products tested by quality control agencies before being released to the market? If this has not been happening, then the Government has been playing Russian roulette with our lives for eons. This could even partly explain why cancer cases have been rising by leaps and bounds.
Kebs and other quality check agencies need to change tack on how they conduct their business. They need to start assessing the quality of products before they are released to the market to confirm they are fit for consumption.
Testing them after they have hit the market, although important, isn't of much help as some people will have consumed the products by the time the testing takes place. It is akin to closing the stable door after the horse has bolted.